Summertime means one major thing for the residents of Sapporo: Beer. A TON of beer! In fact, as I've mentioned in the past, the entire 12-blocks of Odori Park is transformed into an outdoor beer garden for a month, with each square block hosting a different brand's own themed beer garden. It's pretty spectacular: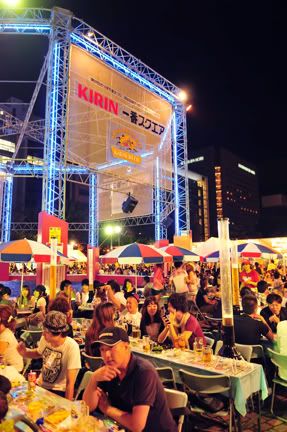 For us here on the JET Program, summertime also means a lot of goodbyes and hellos as our yearly contracts both begin and end in August. As the Sapporo Hajet (Hokkaido Association of JETs) representative, it was my job to organize a welcome party for the new area English teachers to get to know one another. Thanks to the beer gardens, my work is always a WHOLE lot easier!
I introduce to you the future of Japan's English education system:
With fellow JETs hailing from the U.K., Ireland, Mexico, Kenya, South Africa, New Zealand, the United States, Canada, and Australia, we make up a pretty rad international bunch! Here's to another new and fabulous year here in Japan! Kanpai!
!!