Well, since
I last reported
on our very first snowboarding/skiing adventure, the season has come and gone, and I only took advantage of hitting the slopes a total of five--yes FIVE times!  Alas, succumbing to my lack of confidence out on the snowy mountains and the inevitable post-snow-pain, I totally managed to avoid one of the things that I REALLY wanted to tackle this year!
Those five times that I made it out, though, were GRAND!  I learned so much and totally improved my snowboarding/skiing skills (which, as they were previously at zero, I guess I really had no where to go but up)!
My fab friend, Adele, and I...we're hot!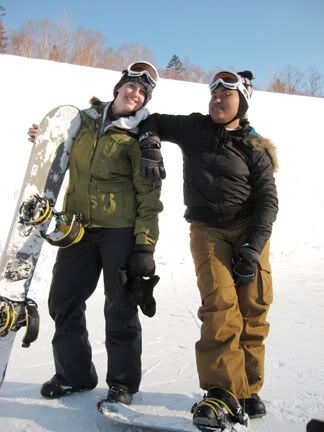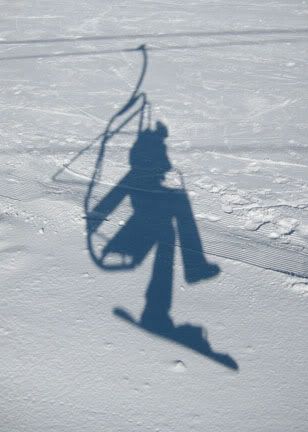 Last weekend I went out to Kiroro with one of my co-workers and his super-cute 4-year-old son (who can ski circles around me...pic below)!  Sadly, this was probably my last weekend out boarding, giving me a full four hours to lament the fact that I didn't make better use of the season!  On a good note, my beloved bunny-hill was closed for the season, forcing me to attack an actual mountain on the family slope!  After some pretty good wipe-outs, the rest of the day went fabulous and I'm happy to say that I can now call myself a snowboarding chica!
I did get to go out with a bang...for my last snowboard rental (I bought my own this week!), I got this awesome board with an American (duh!) cop chowin' on a donut!  I'm hoping there isn't too much of a resemblance!
So, my season was short but seemingly successful!  Now, if I don't forget everything I conquered within the next 8 months, I'll be golden for next year!
Speaking of golden, this week marks the beginning of Japan's Golden Week, a time when almost everyone has a good 5 days (or more) of vacation in a row!  I'll be heading south to meet my sister, who is flying over from the States for a good two-weeks romp with me in Tokyo, Kyoto, and good 'ol Sapporo!  Golden Week post to follow...Japan won't be the same...