There comes a time for most Japanese students when, after years and years and years of memorizing English vocab words and drudging through boring English textbooks and preparing for yet another English test, they just get plain BURNT OUT of learning any more English...this was especially true in a couple of my English writing classes this past school year.
Fortunately I am extremely lucky to work at a school with some teachers who are open and very willing to try new things in the classroom when it comes to English-language learning (strict English-textbook-followers are still the norm in Japan).  Because of this, we came up with the idea of having the students produce their own hardcover English story books for our school library!  With the software from one of my favorite companies, Blurb, and a little help in international shipping from my fab mom, the books turned out AWESOME: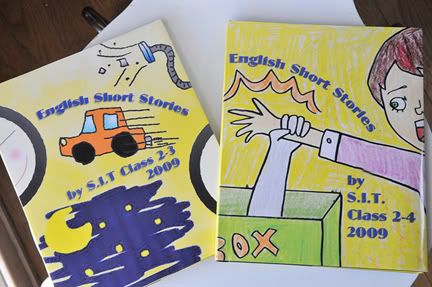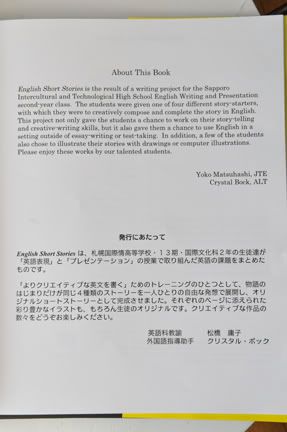 Each student received one of four story-starters to which they had to creatively finish.  It's amazing what they'll come up with when they don't have boundaries or regulations on how they use English!  I was really impressed with a lot of their stories, and the students had a great time as well since they knew their endeavors would result in a finished project at the end!  Some even included illustrations (the covers were also drawn by one student from each class):
I can't wait to see these as the newest additions to our school library!
At times it's been a challenge to get the students away from the notion that English is not a textbook subject used only for passing tests, but instead a living and breathing language that should be used for communication and self-expression!  It's so amazing when they see that they CAN use their second language to do something like produce a book, or write to native speakers, as we did in my first-year culture classes.  One class wrote to students in Texas, and the other class wrote to students in Florida (thank you, Matt and Katharine), and many of them said that experience gave them so much more confidence since they could have a "writing conversation" with a native speaker!
To my amazement, ALL of the students (even the boys) have wonderful matching little stationary sets, so their bundles of letters always look so cool:
Being the Anti-Textbook teacher has helped to make my workdays more of a challenge as I'm always trying to think of new ways that the students can productively USE the foreign language they've been learning for a good portion of their school lives!  I'm super excited to see what we'll be able to do in this upcoming school year...