Luang Prabang, in the northern part of Laos, was not only an incredibly beautiful town to pine away our days, but it also provided a good base for some explorations out and about in the countryside. The first was just a short walk over this toll bridge (seriously...it cost 20 cents to cross) to the village of Ban Xang Khong:
Bang Xang Khong is a traditional weavers village. Most of the women there make their living by raising silkworms, and then weaving the resulting silk into beautiful creations to take to the market in Luang Prabang:
Silkworm cocoons...to harvest the silk, the cocoons are first boiled, and then unraveled to produce a long single-strand of silk fiber:
The village is home to other traditional artisans as well, including mulberry paper-makers and wood carvers such as these guys. They produce beautiful Buddhist-inspired carvings using nothing but a hammer and a variety of chisels. We purchased a piece from them for about $3.00!
Another destination was about 35 kilometers out of town by tuk-tuk into the jungle to one of the most beautiful places I've ever been to: Kuang Si Waterfalls. Hiking up, you pass by many cascades crashing into gorgeous turquoise pools perfect for swimming in:
Once you get to the top, a dream world awaits (although people told us that since it was the dry season, the falls weren't nearly as majestic as usual...still beautiful to me):
As Laos was once hailed as the "Land of a Million Elephants," I was really hoping to see one during our time there. Through a sustainable tourism organization (
Stay Another Day
), we were led to an elephant sanctuary just outside of Luang Prabang that rescues elephants from disappearing jungles (due to Chinese outsourcing) and the logging industry to give them a good, healthy retirement.
During most of their lives, the elephants were made to work 18-hour days lifting loads that were at times too heavy for them. Many of them were drugged to prolong their work, beaten, and not given adequate nutrition. The elephant sanctuary provides them with healthy meals, full medical care, mahouts to help them adjust to their new home, and plenty of play-time in the jungle. The tourist rides (only 3-hours a day) provides the money to pay for all of it. So, here we are riding an elephant through the jungle: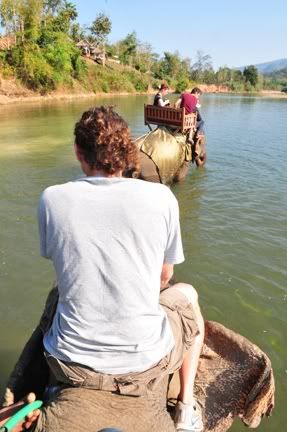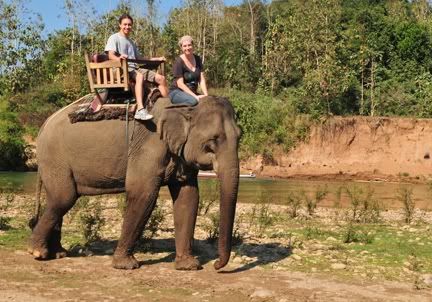 Back in town, it's hard to get enough of Luang Prabang's cafes, markets, people, and Lao-French fusions...especially as the sun goes down: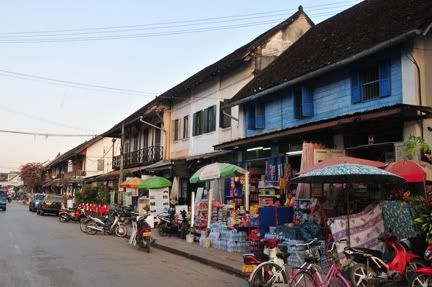 And if you ever make it to Southeast Asia, your time there is definitely not complete if you haven't caught the sunset over the mighty, mighty Mekong River:
Two countries, three weeks, and five blog posts later and it's back to chilly Hokkaido for us! Of course, as I save the "story-telling" photos for this travel blog, you can check out the best pics from our trip to Cambodia and Laos over at
my photo blog
. Or, head to
our flickr site
for even more of our travel photography!