To read about the first part of our vacation in Cambodia, check out here and here.

After Cambodia, we jetted off to the country of Laos for about eleven days (seriously not enough time to fully experience this beautiful country). We began with a brief stop in the laid-back capital of Vientiane...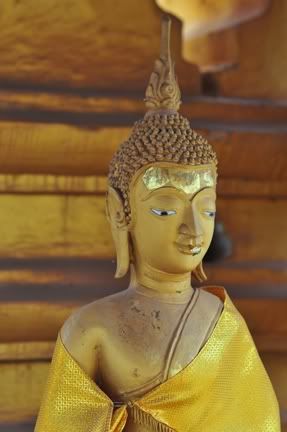 ...before heading out to the little backpacker's haven of Vang Vieng. We had heard the rumors of budget travelers (much like ourselves) zoning out to endless re-runs of "Friends" and "Family Guy" in restaurants all serving the same bland food in this town which, for the most part, was amazingly true! But aside from that, Vang Vieng is in a beautiful location surrounded by steep karst mountains, tranquil rivers, and lazy rice paddies:
Our little bungalow on the river:
And front yard views...not too shabby: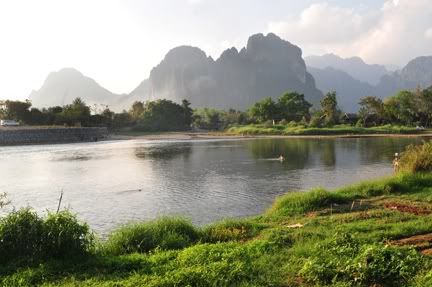 Because of the surroundings, Vang Vieng has some of the prettiest little sunsets ever (not nearly as pretty as the ones back home in Kansas, but can any place really top those!?)!
One of the highlights of our time in Vang Vieng was a couple of trips to the organic farm that was about 6 km out of town...perfect for riding bikes to and grabbing some amazing food! The farm is completely self-sufficient and teaches local people how to live in harmony with the land, rather than destroying it through de-forestation and use of chemical fertilizers. In addition, it harvests a ton of mulberry plants to feed to their on-site silkworms. Local women are employed to weave the silk, which the farm then sells.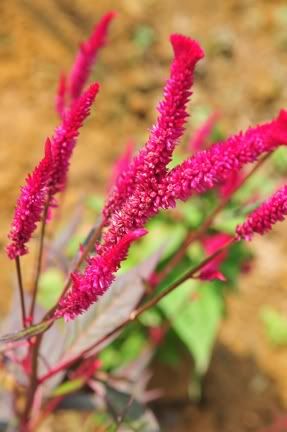 Now the food at the farm is HEAVENLY and an attraction within itself, serving everything from hefty salads and sandwiches, to tasty Lao dishes! Besides the fact that all of their veggies are grown in their own organic gardens, they also raise the goats which produce their milk, yogurt, and incredible homemade goat cheese: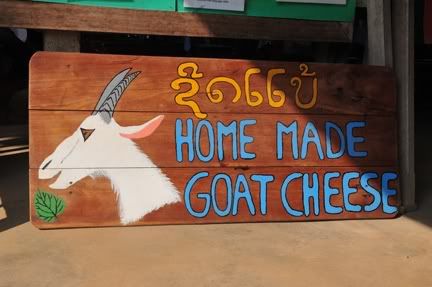 Remember what I said about the mulberry plants!? Well, the organic farm has really capitalized upon this and is also famous for mulberry pancakes, mulberry shakes, and one of the most interesting (and tasty) snacks I've ever had, fried mulberry leaves served with honey: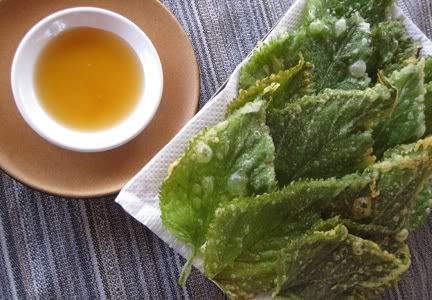 Vang Vieng has become primarily famous for tubing down the river, which has now turned into a bit of a rite of passage on the Indochina backpacking circuit. On New Year's Eve, we took our turn at initiation and headed out with our tubes for a 6 kilometer float among the amazing rise of the mountains:
We made it back in time for dinner, some fabulous Beer Lao (perhaps the best lager in the world!), and the last sunset of 2009: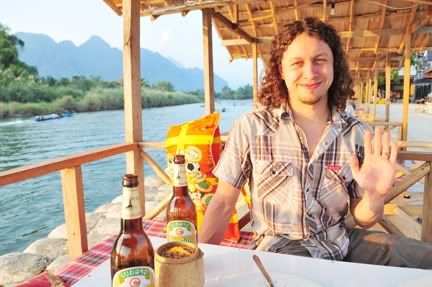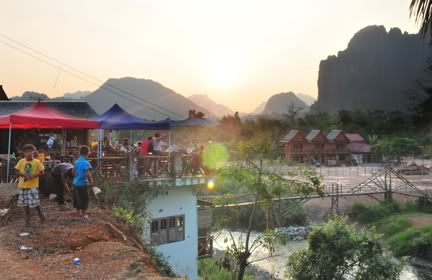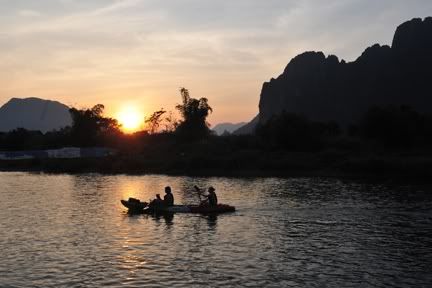 The food in Laos heavily relies on fresh herbs, meats, fish, veggies, and sticky rice to mop it all up with. The most famous dish is laap: meat or fish (usually minced) cooked in garlic, spices, and mint, and served with cucumbers and lettuce to wrap it all up in. Sometimes when you order, you just get an entire steamed fish:
And other times the laap comes minced. Both ways are especially tasty:
Walking around town, you can definitely see that the Lao people take pride in their fresh food creations. From drying river plants, chilies, fish, and rice cakes to refreshing coconuts and large woks of steaming stir-fries, the streets are the BEST place to sample Lao cuisine: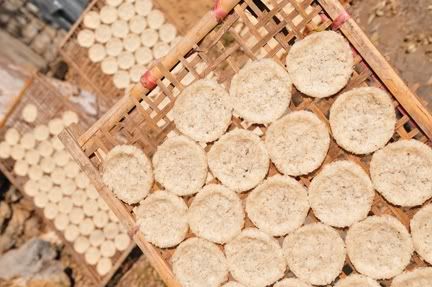 And of course, to wash it all down with, a nice cup of thick, black Lao-style coffee does just the trick. The Lao people like to serve it with a generous helping of sweetened, condensed milk which, when stirred into the mixture, does little to change the coffee color:
If you're looking for adventure, Vang Vieng offers it: tubing, kayaking, rock-climbing, caving, trekking, and biking. Never the ones to sit still for too long, we rented a couple of bikes and followed some hand-painted signs which said "Cave." The caves were cool, but the bike ride through farms, rice paddies, and rickety river bridges was even better: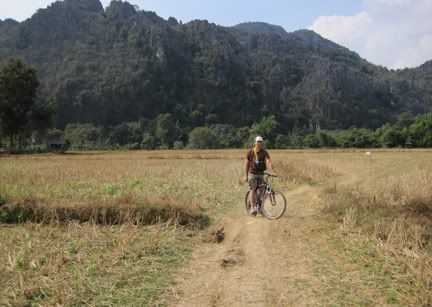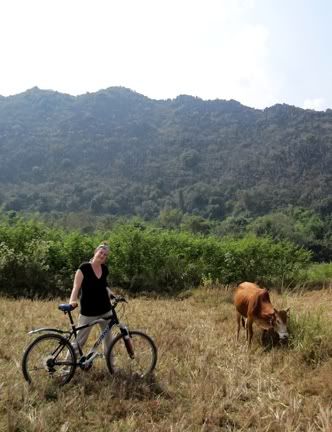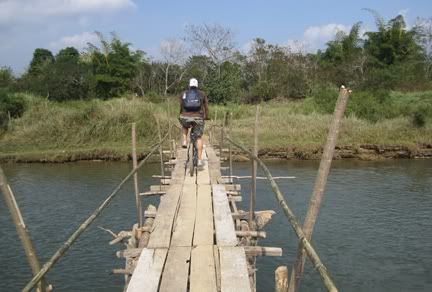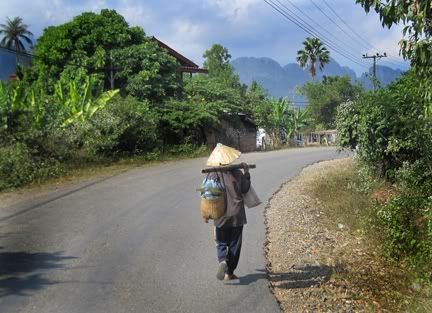 Tomorrow, part two of our time in Laos...