If you didn't catch part one of Cambodia, you can check it out
here
.
Oh, Cambodia...how could we ever get tired of your fresh, tropical fruit for breakfast!? Please come and teach Japan a thing or two:
Because of the amount of poverty in Cambodia, a number of NGOs (some good, some only good-intentioned, and some pretty much good for nothing) and sustainable tourism organizations have sprung up around the country. It's always good to try give back when you travel (which almost always begins with educating yourself on your destination's social and economic situations in the first place) by making a conscious effort to "think, shop, eat, drink, and buy local."
While keeping this mantra in mind, I had the opportunity to visit an organization
which hires women living in poverty or on the streets to make spices, lotions, lip balms, candles, liquors, scented oils and perfumes, and body balms, all using local ingredients from Cambodia. They also hire ladies to make all of the packaging, using coconut shells, or dyed palm leaves to produce cartons such as the ones below, called a smok. Tres, tres cool:
In addition, as an ending to my Intercultural Communication's course on Cambodia that I taught to my Japanese students, we set a goal to raise at least 80 pens and pencils for me to deliver to Cambodian schools. Because my students are amazing, I'm happy to say that we actually got to drop off over 250 pens, pencils, and other small school supplies to an organization called PEPY, who will distribute them as needed! Also tres, tres cool!
For our final days in Cambodia, we traveled to its capital city, Phnom Penh (once hailed as the "Pearl of the Orient"). Instead of staying in a guesthouse, our favorite travel-connection site, Couchsurfing, led us to Darryl, an Aussie-transplant, and his Laotian partner, Dan. Both of them enjoy good food, good music and traveling, so it was great getting to know them for a few days:
And, did I mention that Darryl has an amazing apartment with hands-down the best view in the city (of the Mekong River, of course)!?! One of the nicest Couchsurfing accommodations we've had to date!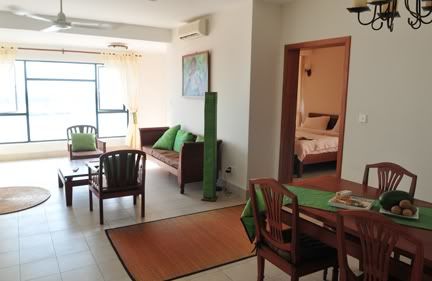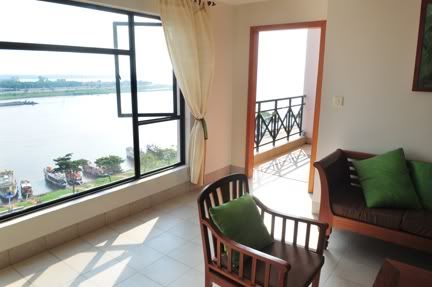 Phnom Penh's National Museum is one of the best museums I've been to in awhile! Here is housed a ton of relics, artifacts, carvings, and artwork from the majestic Temples of Angkor, not to mention from other aspects of Cambodian history and culture. It really is a fantastic place to visit

after

having already explored the temples themselves! The courtyard isn't a bad place for relaxing as well:
The Royal Palace...not quite as impressive as Bangkok's, but a pleasant stroll nevertheless: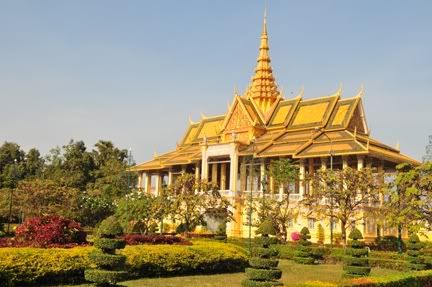 On a bit of a depressing note, yet something that is a MUST while in Phnom Penh, we visited the former Toul Sleng High School, which the Khmer Rouge turned into S-21 prison during the genocide tragedy that happened in the 1970s.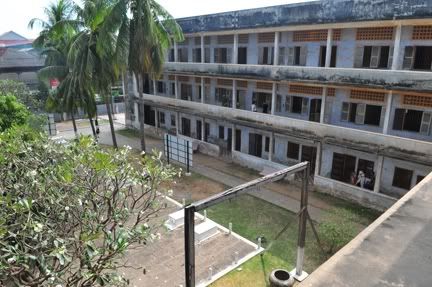 As a part of the KR's unrealistic Communistic attempts to turn the entire nation into rice planters, thousands of people were brought here to be tortured into confessions against the KR, and then eventually killed.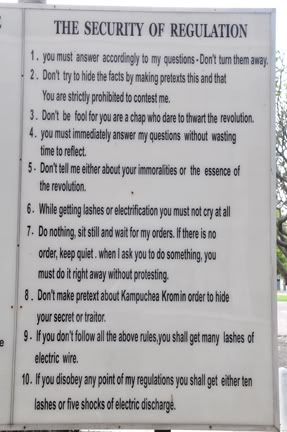 The former classrooms were converted into torture chambers and cramped prison cells. 17,000 people were imprisoned here from 1975 to 1979...only 7 survived. During this time, the KR wiped out over 20% of Cambodia's population...teachers, doctors, people who spoke foreign languages, people who wore glasses, merchants, students, monks, businessmen--all of them were considered an intellectual threat to the revolution and were killed without questioning. Because of this time, a whole educated generation in Cambodia is now gone!
Just like the Nazis, the KR was meticulous in their record keeping. They photographed each and every prisoner who made their final days here. Men, women, children, and babies...all of their photos are on display here, giving faces to the ghosts that roam the halls and former classrooms...
A room where prisoners would be individually tortured until death:
If you've seen the movie, "The Killing Fields," you already have a good idea of the horrors from this time. If you haven't seen it, or don't know much about the atrocities of the Khmer Rouge (including the shallow mass graves just outside of Phnom Penh where you can walk among thousands of bones and skulls), read
here
for more background info. Definitely a part of history that we should know about and not forget!
Despite living through one of the world's worst modern crimes, civil and regional wars, continuous corrupt governments, extreme poverty, and near-destruction of their culture and education, Cambodia remains in surprisingly good spirits! There was rarely a Cambodian we met who didn't give us big smile once we started talking to him or her. Yes, the country as a whole is incredibly poor despite being host to one of the wonders of the world (and the tourism that comes with it), but this is an amazing country to visit! The people are incredible and, although they have a long way to go, it seems as if Cambodia is good at healing, moving on, and working as best they can toward a better future.
So part three of our winter journey (to come in the next day or two) actually takes place in Cambodia's northern neighbor of Laos! This is the plane that took us there, and we can only imagine what the U.S.'s Homeland Security Administration would think of the situation: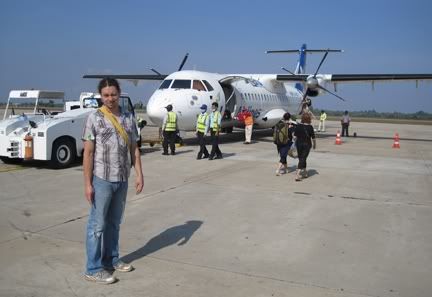 (To see more of our photos of Cambodia, check them out on our flickr site...or, you can wait until I have what I consider to be the best of the best--including a lot more people shots--up over on my photo blog sometime within the next week!)