To read part I of our vacation in Laos, head here.
From Vang Vieng, we headed north through some incredible country side to the UNESCO World Heritage town of Luang Prabang. The formal royal Lao capital is a beautiful fusion of Lao-style architecture mixed with charming French influences from the colonial days (hence the whole town being listed as a World Heritage site). Luang Prabang is literally dotted with wats (Buddhist temples), old French trading houses, cafes, tree-lined riverbanks (it's on a peninsula in the Mekong River), and orange-clad monks. It was an amazing place to spend seven days: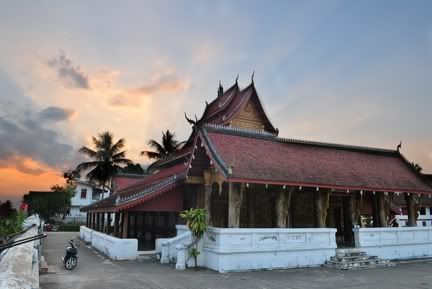 Something that has become a tourist destination within itself is the town's huge Night Market. Ladies from the surrounding villages come into town just before sunset and set up their wares (silks, wood carvings, prints, clothing, spices, lanterns, etc.) all along and in the middle of the central main road. As it is one of the most laid-back markets in Asia, not to mention the fact that it has incredibly cheap prices and haggling opportunities, this place is a shopper's dream: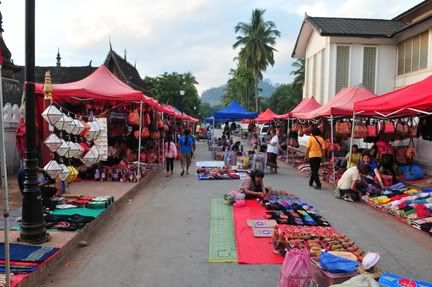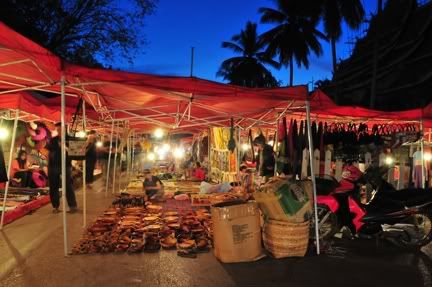 Luang Prabang is regarded by many as not only Laos's cultural hub, but its religious one as well. Because of this, it takes its traditions very seriously...one of which is the early morning alms-collecting by the Buddhist monks. At around 6:00am everyday, the monks head out of their wats to collect their food (rice, fruit, etc.) for the day from devout townspeople. For the givers, this ritual bestows merits upon them and their household. I peeled myself up at 5:30am twice during our stay to witness this incredibly picturesque and meaningful tradition: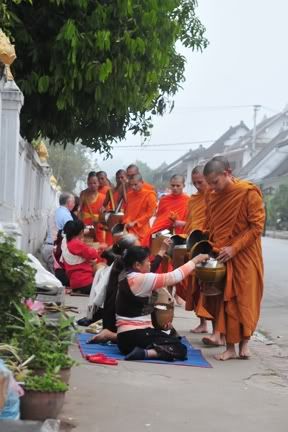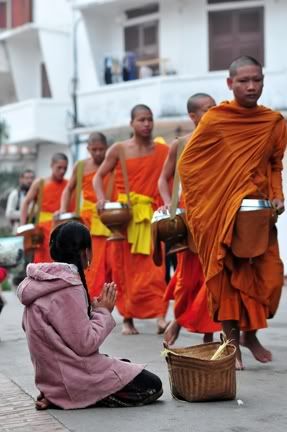 Imagine a hot, steamy, dark closet filled with talkative Lao ladies in sarongs and one tall, white Westerner, and you have an idea of what my herbal steam bath down at the local Red Cross was like. Best cultural experience ever? Perhaps. My skin has never felt so smooth and fresh, though, that's for sure:
Just like in Cambodia, Jacob and I decided to take a cooking course to learn how to prepare some local Lao dishes. We went through Tamarind restaurant (highly, HIGHLY recommended) and, once again, our class began with a tour through the local market to learn about and purchase our ingredients:
And then we were whisked away out into the country to our outdoor, riverside group kitchen...not bad, eh:
One of the most outstanding organizations we came across while in Luang Prabang was a place called
Big Brother Mouse
. As many children in Laos, especially in the villages, have never seen or read a book that's fun, BBM creates, publishes, and distributes Lao books for Lao readers. As a visitor, you can sponsor a book party in a village, buy books to support BBM, or even sponsor the publishing of a new book itself. We purchased a few books to pass out to kids in the villages we passed through, which was really cool. If you get a chance, check out BBM's website and what they're all about:
If you ever make your way to Luang Prabang, might I suggest renting a one-speed bicycle on one of your days, and riding around town as slowly as you can, taking in the sights, architecture, food smells, and people (including a little monk-hunting...they're everywhere!)...this was one of the best memories of my time there:
Tomorrow, the thrid and final part of our time in Laos, as well as the end of our winter vacation posts (yes, back to Japan for all of us)!