A Japanese high school tradition for many, the school festival is an amazing production of creativity, talent, teamwork, stamina, and exhaustion.  The entire school is completely transformed.  Students rehearse plays, practice songs and dances, paint, create, and collaborate for four weeks in advance (and sometimes more) in preparation for the three-day event: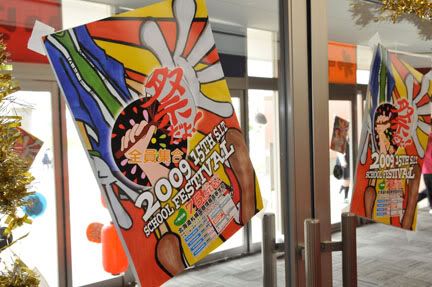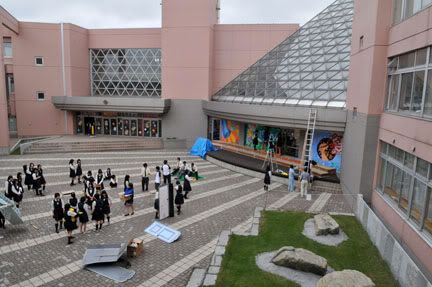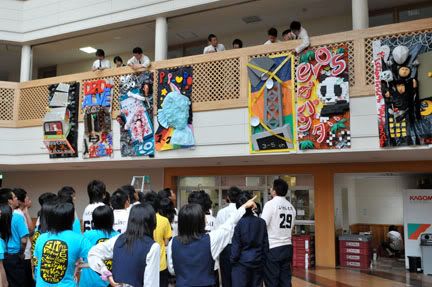 Each class for each grade chooses a theme, which is carried out throughout their festival performances and displays.  This theme can be seen in their class t-shirts, their classroom designs, the plays that they write and perform, and these amazing 3-D banners that are hung in our canteen...it's seriously incredible what these kids can create out of cardboard, paper, and paint:
The first night of the festival is the Utapon singing competition.  The entire school is divided into eight teams which choose a song to chant, dance to, and perform.  I was asked to be one of the Utapon judges, and had my first chance to debut in Japanese yukata (light summertime kimono).  The students REALLY seemed to like my new look (I have some great pics with them, but have to keep their faces off of the internet...boo!):
Afterwards, an amazing display of fireworks out on the track help to officially start the festival:
Saturday, the day is spent watching class play performances, as well as some incredibly produced class advertisements and comedy spots (produced and projected by the technology students in-between class plays).  Final preparations are then made for the biggest day, Sunday, when the school is opened up to the public.  This day was the craziest...at 8 in the morning, most of the students, teachers, and many parents were already at school cooking, cleaning, and getting ready for the 10am opening:
Perhaps the best display of cardboard and creativity are the classrooms themselves.  Each class, as I said, chooses a theme to roll with, and then completely transforms their classroom into its respective roll.  These are opened up to the public like a carnival, with each classroom selling a service (food, photo booth photos, gun-shooting games, haunted house, tote bags, etc.) in order to raise money for their class.  Just a few of these wonders:
Selling cream puffs, Belgium waffles, and flavored sodas and this park-inspired room.  Note the cardboard grass:
Coolest cardboard floor...a 1950s-inspired hamburger stand!
Besides club and department presentations and demonstrations (it is, afterall, essentially an advertisement to prospective students for our school), Sunday is also the day to showcase non-school related talents such as rock bands, beat-boxing, stand-up comedy, singing, and my favorite, break-dancing:
The school band, finishing off the day with yet another marvelous performance:
While I have to say that school festival was definitely one of the most exhausting aspects of my job to date, it was incredible seeing something come together like this, especially as every part of it is 100% student produced and directed!  It's definitely grassroots effort at its ultimate!