Once a year, in the Hokkaido town of Noboribetsu, the steamy under-regions of Hell open up, and the King of Hell himself comes forth to folic with the locals, relish in the enchanting beat of taiko drums, and perhaps munch on a chocolate-dipped banana or two.
This is the Jigoku Matsuri, or Hell Festival, and our glorious getaway last weekend with our fab friends, Steph and Yukiya.
(This guy prominently lets you know that you're almost to Noboribetsu)
The town of Noboribetsu celebrates this great arrival with devil (oni) masks, shrines, various parades, taiko drumming competitions, music, and dancing. Of course, colorful yukata and costumes (everything from devils to Disney) make their way onto the scene as well
.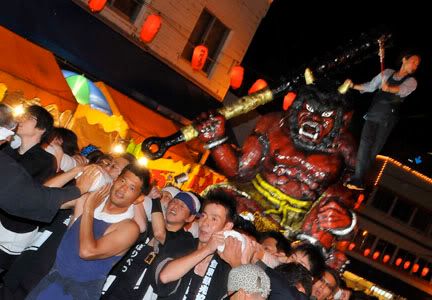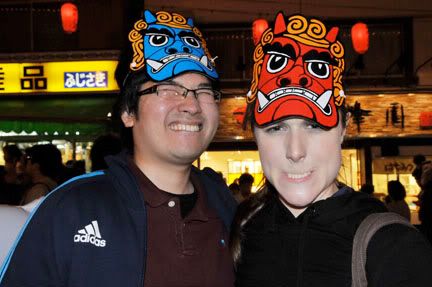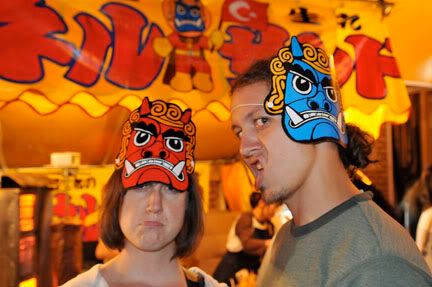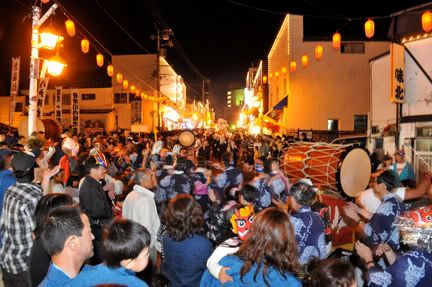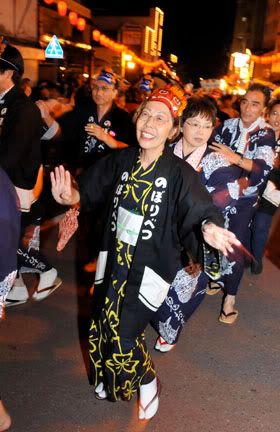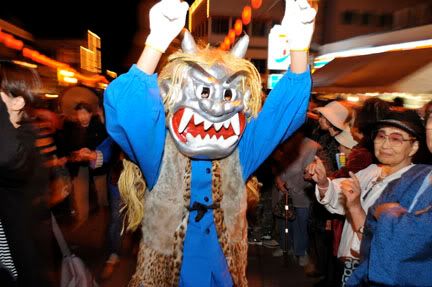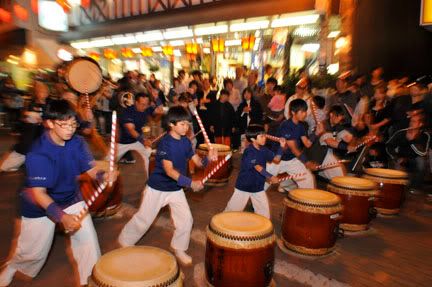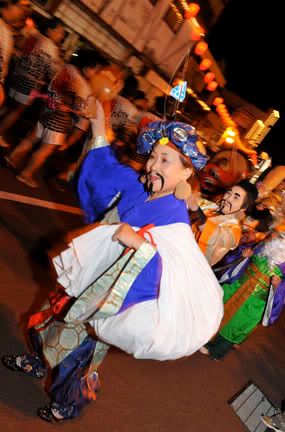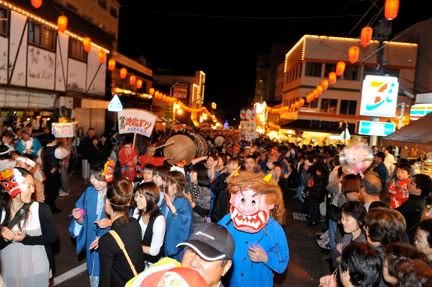 The weather was quite chilly for August (and for...Hell, for that matter), the cute little devil-hand-hot spring was a popular place throughout the night:
And, what kind of Hell Festival would it be if there were no terrified, screaming, and crying children to be found? That's what this guy was built for: A huge, floating devil head on top of which the menacing King of Hell himself rode through the streets of town. With its eerie smoke, speakers blaring ominous music, and a large, evil, mechanical king, this thing is a full-blown nightmare for the 5 and under crowd!
Oh, did I mention that the king stands up, suddenly turns into the devil, and then talks about taking people's souls back with him to Hell? Pretty sweeeeeeet:
The next day, feeling quite removed from anything Heaven-bound, we headed to Hell Valley, a steaming, hissing, sulfuric peek at what may be awaiting for us in the after-life (hopefully, with the adjoining ice cream shops as well). This valley is super volcanic, with aqua-blue, hot-spring streams, and yellow pools of steamy sulfur cutting through the hot rocks.
Hell Valley provides most of the hot mineral waters for the town's numerous onsen (hot springs), which the Japanese are crazy about! We went to the Dai-ichi Taki-moto onsen, which has over 20 different kinds of therapeutic baths and was

heavenly

(you know, in a hellish way):
More devil-play back in town before heading back to Sapporo: