Thanks to some sweet hook-ups at work, Jacob scored us tickets to see the Hokkaido Nippon Ham Fighters (named out of sponsorship) this week at one of their pre-season games. The Fighters are our own Sapporo-based team of the Japan Professional Baseball League and, for those of you needing a little trivia, were formally coached by the current manager of the Kansas City Royals, Trey Hillman.
The Sapporo Dome was the location of my first professional baseball experience in Japan as we went head to head with the Honshin Tigers up from Osaka: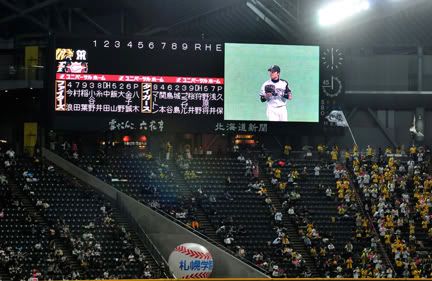 Quite a deviation from the standard baseball-fare of hot dogs, pretzels, and Cracker Jacks: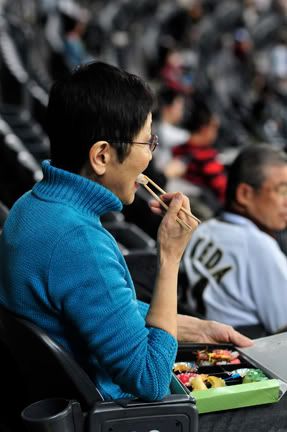 Much to our amusement, some folks had more important things to do than to watch a silly ol' pre-season game:
And of course, instead of having a seventh-inning stretch, the Fighters have the Village People's "YMCA" blared over the loudspeaker in the fifth inning sweep as fans, groundskeepers, and security personnel dance and croon:
"Gonna take you to the Y-M-C-A
Go Fighters!
Y-M-C-A
Go Fighters!"
(The Japanese have never been known for such details as fully understanding the meaning of English words, phrases, or songs before plastering them in public and for promotional uses--also much to our amusement!)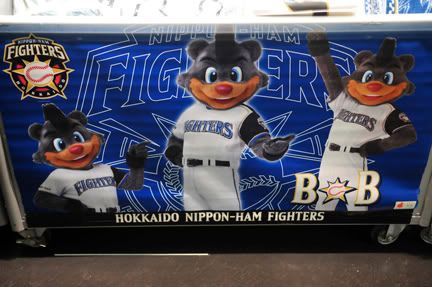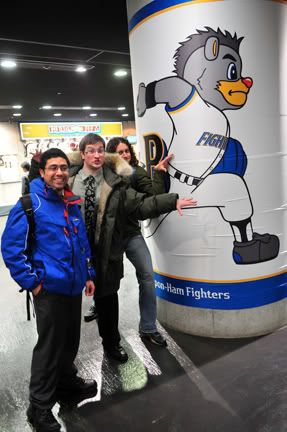 Baseball games are always more fun when they're free...or when they're Japanese...so this was the best of both worlds! Highly recommended if you can get yourself out and enjoy this "All-Ameri--err, Japanese Pastime!"