Epitomizing all that is good and fair and beautiful in the world of Japanese high school, our annual three-day Sapporo Intercultural and Technological High School (SIT) festival was held last week. The importance of the school festival to students here in Japan is pretty much on par with prom, graduation, and even some people's weddings back home in the States. This year was extra awesome as the whole thing was an underlining tribute to Michael Jackson! MJ, people! SWEET!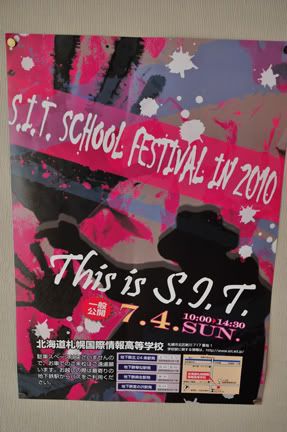 Friday night was the first night of school festival, and was when students performed in their Utapon singing competition. The entire school is divided up into eight groups, and each group must perform and sing a timed piece to be judged. Hard work for them...easy work for us female teachers, who instead parade around in our lovely, light yukata.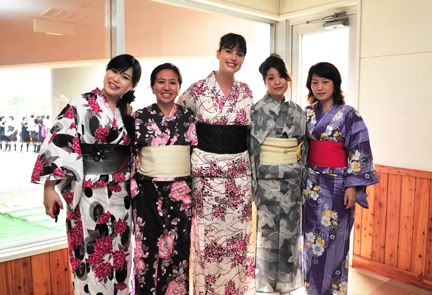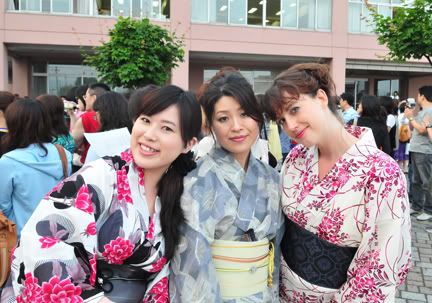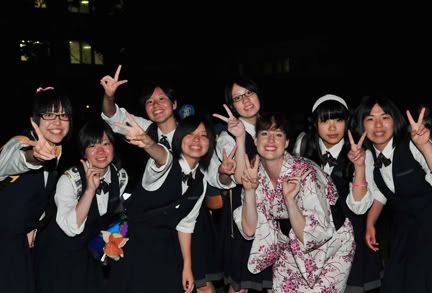 Each year after Utapon, the whole student body migrates out onto the baseball field for a massive fireworks display (all the bigger high schools have fireworks on different weekends, so it gets to be a nice summer treat)! This little 20-minute event serves as the Japanese high school equivalent of prom in America. In typical Japanese style, it's a clean and condensed way to profess your young love, and I'll admit that it's pretty entertaining to poke around and discover shocking new student couplings once they're lit up by the light of the bright hanabi in the sky. Yup, I've been in Japan too long: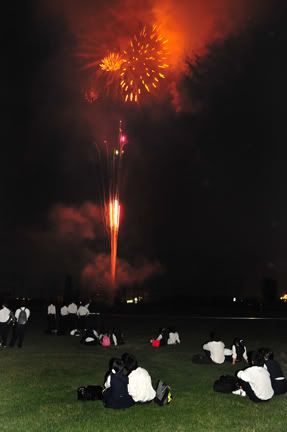 The second day of the festival, Saturday, is always a strictly all-school event. Each of the eight classes of third year students (equivalent to seniors) write, produce, and perform 30-minute plays for the entire student body. This year kicked off with a rockin' MJ dancing tribute and, if you know anything about the Japanese love for perfectly choreographed dancing, you can have a pretty good idea of how sweet their renditions of "Thriller," "Smooth Criminal," and "Billie Jean" were.
For the last play of the day, the third-year homeroom teachers put on a rather crude performance of their own. This year, the other native English teacher, John, and I were both asked to be pirates in their rendition of "The Pirates of the Caribbean," with promises that our parts would consist of a few "arrrrrrrrs" in the background! Upon receiving our scripts, however, we were surprised to see that not only did we have speaking parts in Japanese, but we also had to sing an English song afterwards! Mind you, this is in front of a student body of about 1,200 kawaii Japanese youngsters. "What kind of song are we singing," I asked. "Any song in English," was the reply. "Why do we have to sing a song anyway?" "Because it's a musical, of course." Oh. Riiiiiiiight!
And that's how John and I came to sing Lady Gaga's "Pokerface." Dressed as ghost pirates.
The last day of the festival is open to the entire public, and it's a huge grassroots affair. The dads grill yakitori and yakiniku outside. The moms bake and cook up the proverbial frenzy. And the students put finishing touches on their decorated classrooms, happy and free from the constraints of the standard school uniform and healthy bento lunches that normally mark their school days: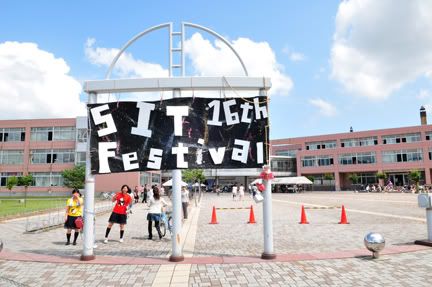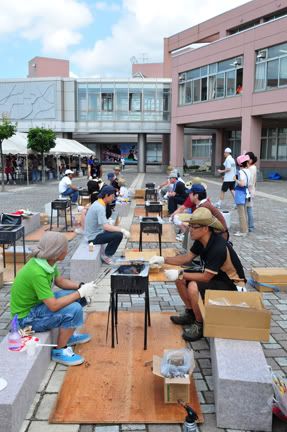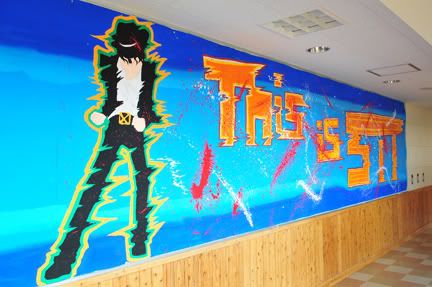 This is the day for the students to show off their clubs and projects, and just like last year, I can't help but be blown away at the things these kids can create with just a little (okay, a lot of!) cardboard and paint: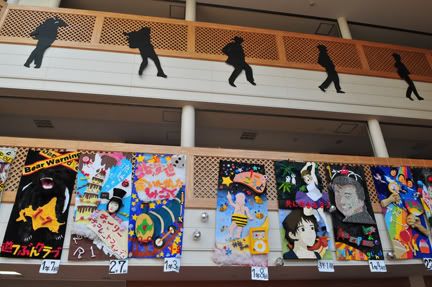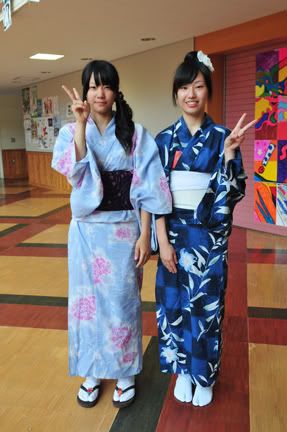 The biggest cardboard wonders/transformation happen within the classrooms. Each homeroom class morphs their room into some fabulous fantasy business ranging from cafes, restaurants, and ice cream parlors, to arcades, haunted houses, and photo booths. Colorful and oh so cuuuuute advertising competes to lure you in and steal your hard-earning yen, and I like it: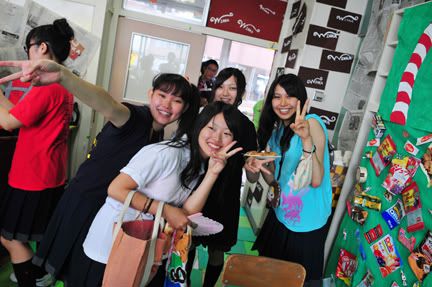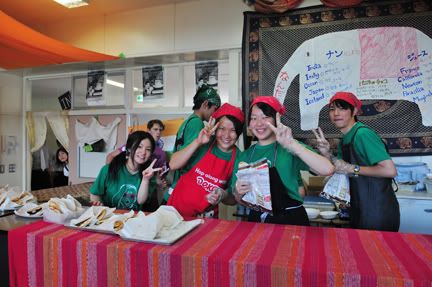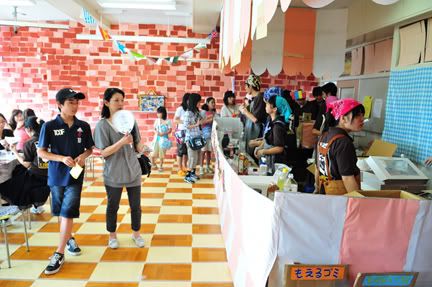 Jacob and John get schooled by the Tea Ceremony Club gals: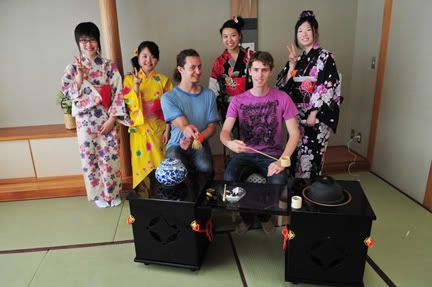 Okay, how awesome is this all-girl band in
yukata
!?!?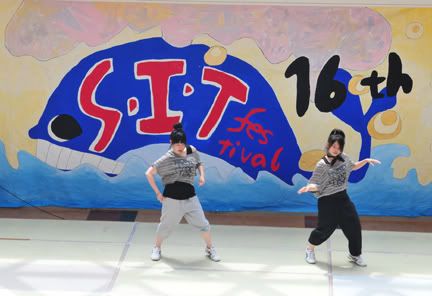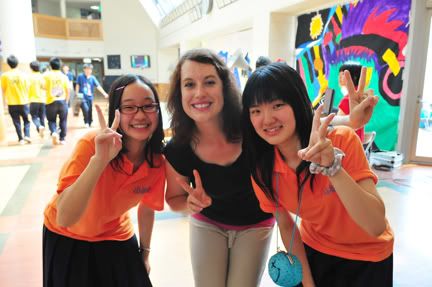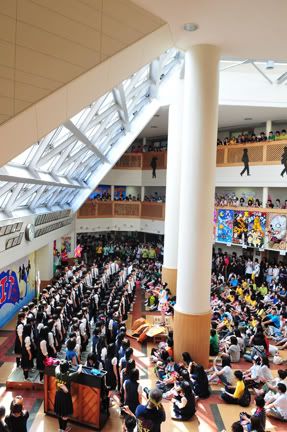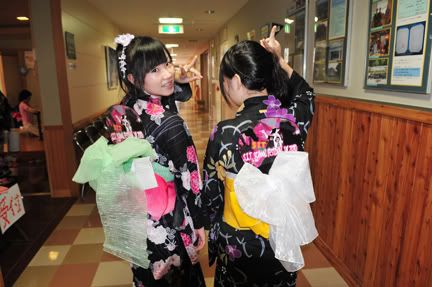 And in the end, I'm still not sure what is more amazing: the whole three-day production (and two-week preparation) itself, or the fact that the students are required to have three weeks of regular classes again after all of this hoopla before being released for summer vacation! In any sense, the Japanese school festival is the best display of the other side of Japan that so rarely shows its face. When it does, however, it's fabulous.