Last weekend's magnitude of mighty M-madness kicked off with one of the most amazing experiences I've had while living here in Japan. At our friends Ross and Risa's wedding back in February, our good friend Jesse drank and chatted it up with one guest in particular there. Turns out that guest was a young Buddhist monk with his own temple here in Sapporo, and who was super keen on teaching some foreigners a little meditation.
A good workout, a nice dinner, and then a little meditation with a monk. Typical Friday evening.
Although last minute work (aka a funeral) pushed our meeting back an hour, the evening proved more than memorable. Upon entering his car, we were consumed with some bumpin' beats that were straight out of any club. This was, in fact, a monk mix from his monk D.J. friend who works down at one of the clubs in Sapporo which is frequently visited by area monks. Ahhh, religion in Japan is sooooo awesome!
The temple where he lives and works was actually built by his grandfather 30 years ago and, although beautiful, was so cold inside. That might have proved a necessary distraction, however, as we ended up doing our first meditation for AN HOUR!!! Seriously! Do you know how long that is when you're trying to keep a clear mind and a long, steady breath? Fortunately, we could keep perfect time on his iPhone. Ha!
Photo reconstruction of said meditation for posterity:
The next day, the other native English-speaker at my school, John, and I (as well as Jacob, and John's wife, Natalie) met some students for our annual Hokkaido English Challenge (HEC) celebration ice cream at McDonalds. HEC is an amazing English communication test for up to 10 students from each high school and junior high school in Hokkaido. The winner gets a 2-week homestay to the country of his or her choice. The 50 runners up get to go to
HEC Camp
in the summer. It's seriously one of the best things we do here. And through it, we always get a chance to get to know some really cool and motivated students in the process:
Yes, lots and lots of meat. Some identifiable, some not, some only edible to the Western palate with a hearty swish of cold beer to get it down. And all of it courtesy of one of the best customers at Jacob's restaurant (TK6), Mr. Tanabe. Mr. Tanabe is VERY well off as a manager of a few properties, restaurants, and sports teams (yeah!) and he is VERY generous to those around him. And fortunately for us, he is VERY fond of Jacob, so it usually leads to some amazing experiences on our end.
Anyway, Mr. Tanabe is good friends with this meat-master, and needless to say, we ate and drank heartily: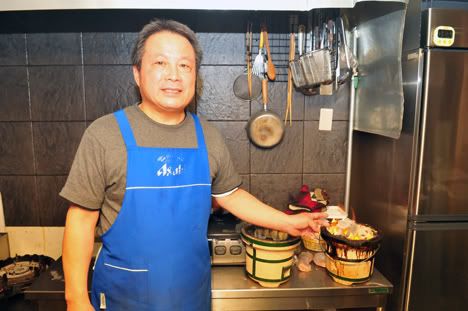 Two of the highlights of the evening were having dinner with the goal-keeper of Sapporo's pro-soccer team, the Consadoles (sitting to the left of Mr. Tanabe)...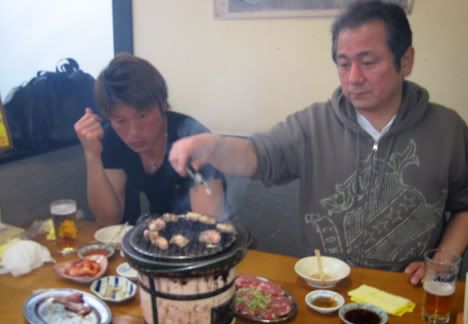 ...and meeting another regular of both TK6 and this BBQ shop: a silly man who simply is referred to as "The Doctor":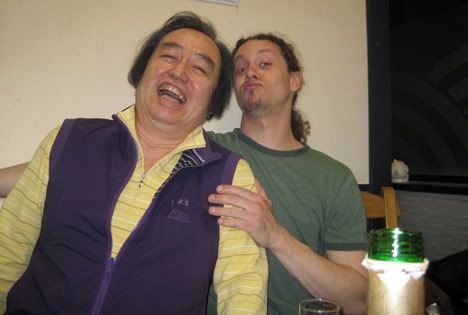 Are we really expected to conduct a "normal" week of work and life after weekends like these?