Coming down from a vacation high and trying to get back in the swing of work, cold, and the occasional winter blues, January has proven to be a bit of a "transition" month for us here in Sapporo, hence the apparent blog-drought!
Fortunately, as my friend Callie and I discovered, we did make it back in time for all of the "Fat Sales":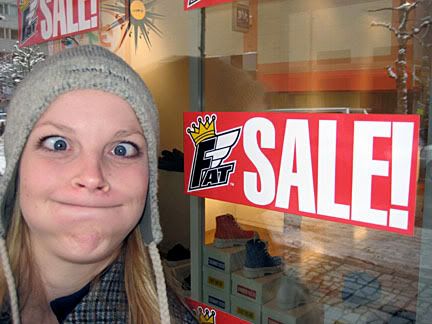 I'm still working on my Japanese as much as I can, especially with the help (and twice a week lessons) from Eri.  Man, this language is difficult!  I've been studying for five months and still feel the tight grasp of illiteracy and confusion!  日本語は楽しい、でもむずかしです!
My school and the students have been getting back into the swing of things as well as they head into the homestretch of their school year, which ends in mid-March.  We kicked off the semester by hosting the All-Japan Micom Car Rally, in which students from all over the country display the speed and agility of electric cars they built themselves:
Also, we are still trying to earn the claim of "Snow Bunnies" as we hit the slopes again, this time at Teine Ski Resort, which is located in Sapporo's city limits about 25 minutes from our house.  For my second time snowboarding, I see definite improvements, except in the week of pain that follows.  I only hope that I can somehow master the art of getting down the dang mountain while still in a semi-upright position before our all-school ski trip at the beginning of February...yikes!
Finally, in an event that matches no others, Jacob and I are the newest members of...duh, duh, duh...the Chuo Sapporo Municipal Library!  With the cold weather providing many 
cooped-up moments at home, I've never been happier to have regular access to free entertainment: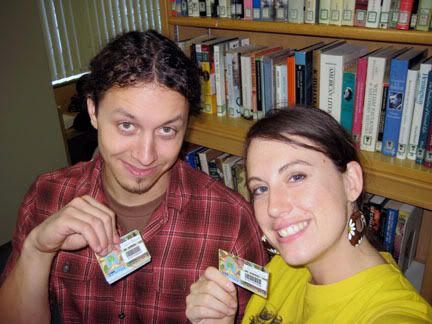 January is the mere calm before the storm for us.  February is bringing with it the Snow Festival, LOTS of guests and Couchsurfers from all over the world, my birthday (another yikes!), Valentine's parties at school (special request from home: Valentine's for my students!), and the last FULL month of school...in other words, we just won't have time for any more of these cold winter, January blues!