From the bustling neon of Tokyo, Carissa and I took the night bus (much cheaper than the bullet train with all the expected sacrifices of comfort!) down to Japan's old capital of Kyoto. I wanted her to see more of a traditional "Japan's Japan" before heading back up to Sapporo.
Unfortunately, due to Golden Week, everyone else had the same idea and the crowds were awesome to say the least: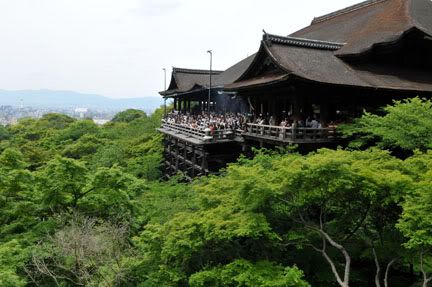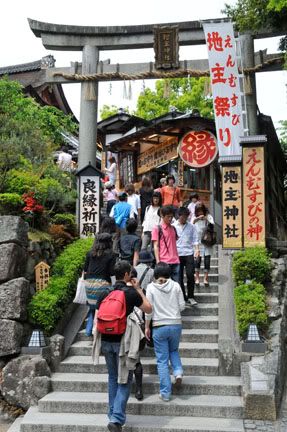 I love posing with fake geisha. The real ones are too fast and too difficult to hunt down!
May 5th is one of the holidays which makes up the blessed Golden Week. Up until 1948 in Japan, this holiday was known as Boys' Day. Now, it is labeled (among most anyway) as its more politically correct counterpart, Children's Day. Colorful carp banners are flown outside of the homes of families who have boys, special sweets are eaten, incredibly expensive and detailed Kintaro (strong, historical figure) dolls are put on display in the home. Basically, it's a day to celebrate the happiness and prosperity of all children (although, admittedly, with emphasis on

boy

children...you're not hiding nothing, Japan, with your renaming of the holiday!!!)
While visiting one of Kyoto's many shrines, we happened upon a parade for the Boys' Day celebration: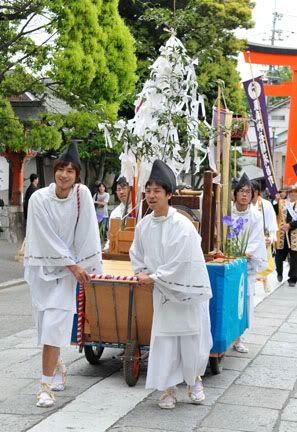 I particularly like this guy's glare towards me. Either he takes Children's Day really seriously, or he's not really thrilled about having proof that he was dressed up in that outfit:
Despite the crowds (ohhhh the Golden Week crowds!!!), I still love Kyoto and all of its quintessential "Japanese-y-ness."
We were also able to meet up and have breakfast with one of my international friends from college (and former basketball teammate) Kotomi:
In my opinion, a trip to Kyoto is NOT complete without a trip to the Fushimi Inari, my most favorite shrine in all of the city! It's so beautiful here and, because of its sprawling size, the crowds actually seem a lot more pleasant and navigable (and at times, dare I say, even nonexistent):
Carissa and I stayed with my favorite Couchsurfer, Shoji, at his amazing Couchsurfing guesthouse (which Jacob and I stayed in during our October trip to Kyoto). We got to meet with some travelers from France, Argentina, and Italy as well! I love this place:
Kyoto by night has a completely different feel to it than in Tokyo. It's more College Town once it's "early-to-bed-early-to-rise" tourists have slipped back into their hotel rooms.
Of course, Kyoto by day is just as fun:
As much as I love Kyoto and Tokyo, it felt so good to hop on a big plane back home to Hokkaido to show my sister around our lovely Sapporo. Part three of Golden Week to come...