It's that time of year again...
The inappropriately-named annual Sapporo Marathon (there's only a half, 10k, 5k, and 2k) was held last weekend on a clear, sunny, windy, cloudy, rainy (yes, all of those) Fall day!  
Last year
, like every year, our entire school's student-body had to run this thing for their PE credit (guys 10k and girls 5 or 10k).  This year, the Great Swine Flu Judgement (affecting all common-sense, fun, and the like) had different plans and the school cancelled the run for all students.
Luckily (unluckily?) Jacob and I were signed up separately and got to enjoy our first race EVER together!  I ran the 10k and he ran the half-marathon, and I think we both did pretty decently:
Excuse me if I'm just a little proud of my hubby!  A half-marathon for your first (post-high school) race is quite a feat:
Joining us this year was the new South African ALT (Assistant Language Teacher) at my school, John, and his lovely wife, Natalie.  They prefer the au-natural, organic-route of race-running...that is, absolutely no preparation or training beforehand!   Natural talent?  Craziness?  Who cares...they finished and it was awesome: 
The only thing that stands out more than a lanky, white gaijin (foreigner) in Japan is a
running
, lanky, white gaijin in Japan!  Works perfect for those "distract-then-pass" strategies!
Our number-one (only?) fan, Steph, could definitely NOT be missed in her sweet race-cheering get-up...quite possibly one of the best highlights from the day (aside from sprinting towards the finish-line to the sound of taiko drums, that is):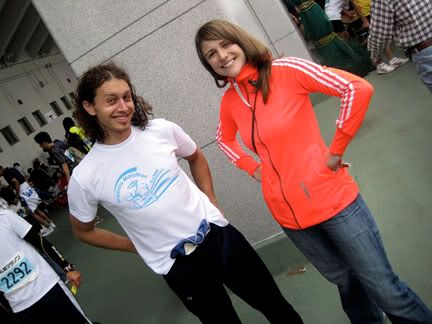 Finished, happy, race-shirts earned, and on our way to inhaling some American-sized burgers for our post-race therapy:
I'm hoping that this won't be the last race Jacob and I do together, but as the cold is starting to settle in here in Sapporo, this will definitely be the last race of the year.  Okay, okay...so it was the

only

race of the year...details.  Let the winter food-gathering and hibernation begin...