Mornings during my week in Beijing usually began something like this: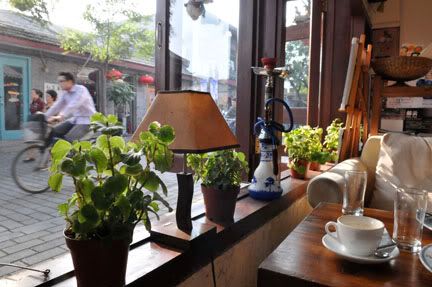 A "backpackers" breakfast (included free with the hostel price) of toast, eggs, bacon, fruit and coffee, all enjoyed next to a fabulous screen-free window opened to the world, sights, and sounds of the hutongs coming to life in the morning.
Strolling through any of the numerous parks in Beijing, its possible to see how much of the rest of the city wakes up on an average day. Group exercise routines, ballroom dancing, tai chi practices, singing, visiting, writing water calligraphy...I can't think of a better way to get going in the am:
Besides magnificent people-watching opportunities, the parks in Beijing are just lovely places to stroll, lolly-gag, and eat
Mooncakes
:
Rumor has it that there's this supposedly famous wall that you're supposed to go and see while you're in China:
I didn't just
see
this fabled wall...I
hiked
the thing. Ten and a half kilometers (6.5 miles) and 30 watchtowers to be exact! T

he section that runs from Jinshanling to Simatai is NOT the restored and tour-bus-heavy section of Badaling, where there's vendors, hotels, and I believe even a Starbucks! This section is largely un-restored...in fact, even crumbling and overgrown in many areas. The views, especially on the day I was there, however were incredible! It's really a magical thing, hiking this Great Wall...
And, dipping your feet in the cool, refreshing Simatai River afterwards...magical!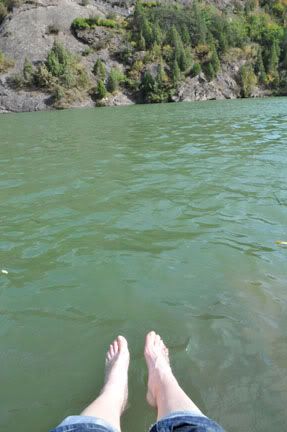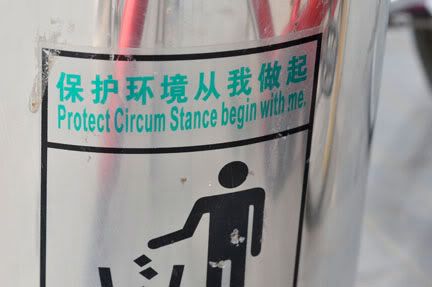 (In other words, throw away your trash!)
During my time in the capital, everyone was in a decorating-frenzy in preparation for the 60th Anniversary of Mao's proclamation of the People's Republic of China (which, incidentally, was 60 years ago

today

). Seeing red? Well, that was a little bit of an understatement...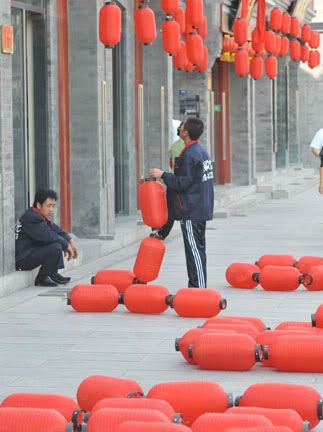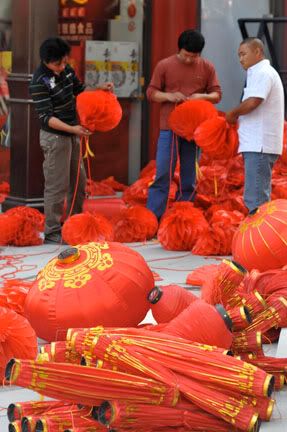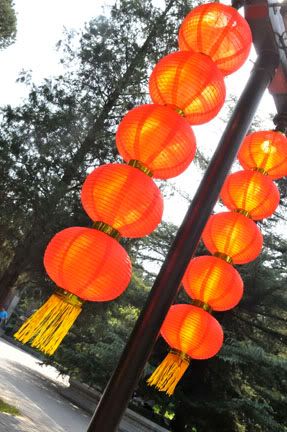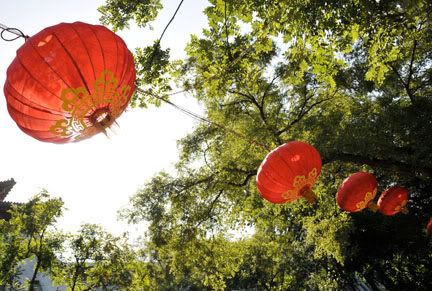 The Lama Temple, converted from a palace to a place of worship in the 18th century, is said to be Beijing's sweetest Buddhist temple. With all of the incense that's burned there, it's definitely one of the best smelling places in the city, that's for sure:
Don't be confused by the demanding use of all-caps...Buddha-homage is purely optional...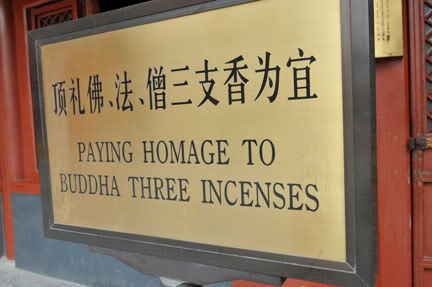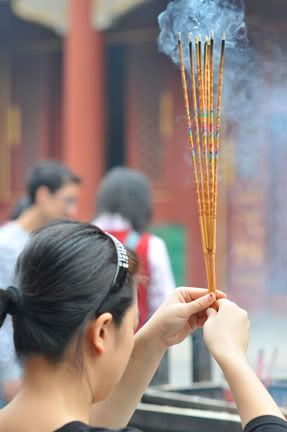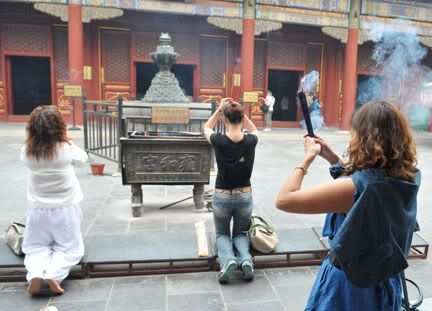 Chugging along my extra-heavy tripod (something I rarely do on overseas excursions), and keeping with my self-assigned photography week, I was able to get quite a few nice evening shots of our hutong. I think these, more than anything of my other photos, really give a sense of what it's like to meander through these alleyways once the sun drops down: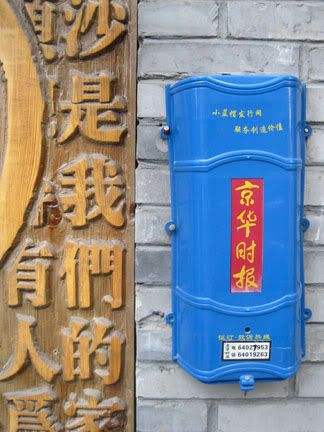 Coke and dumplings...my ever-reliable and ALWAYS-justifiable ultimate "Chinese" snack:
As a first trip to China, my Beijing-base was a nice little "teaser-sampler" to Chinese culture, food, people, and general city-life. Next time, I hope to enjoy some more countryside-courses with perhaps a little Hong Kong/Tibetan dessert thrown in!
From me on this side of the pond, Beijing comes highly recommended! I should have more of my Beijing photos up soon in our Flicker photo pool, but check out my photography blog for some of my selected favorites of the trip!