It's the end of summer here in Hokkaido, and that can only mean one thing: time to take a trip to Hell. I wrote about our little jont to
the Noboribetsu Hell Festival last year
, and it was so much fun that a few other gals and I decided to take a short road trip there for the festivities again this year.
Behemoth fiberglass roadside characters on the way to Noboribetsu were obviously a necessary addition to our journey this year: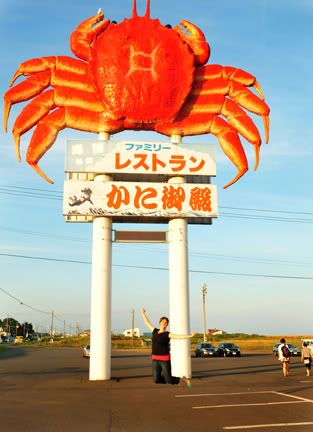 Oni (devil) mask? Check. Two bottles of Rogue brewed Ezo beer? Check. A town buzzing with the excitement of dancing around the Buddhist King of Hades? CHECK! Let's party!
The whole shin-dig kicks of with a couple of demon figures being zig-zagged though the streets with children on the sidelines scurrying like mad to avoid them! Hellacious.
This year, Norboribetsu experienced what us foreigners refer to as a major Gaijin Smash. Basically, that translates to a whole lot of foreign English teachers descending upon the town for the big event. This is usually both frightening to the locals and confidence-building for the foreigners, but here in Noboribetsu, it just resulted in a massive amount of fun:
One of my most favorite things at the Hell Festival is watching the incredible taiko drummers doing their thing. You don't know talent (or ripped arms and abs for that matter) until you've seen as intense of taiko performances as these:
The main hellish hoopla of the evening is a "parade" of different costumed teams. I use the term parade loosely because basically everyone dances the Oni (devil) Dance up and down the main street in an organized-ish looping style, so you get pretty familiar with everyone by the time the whole thing is said and done: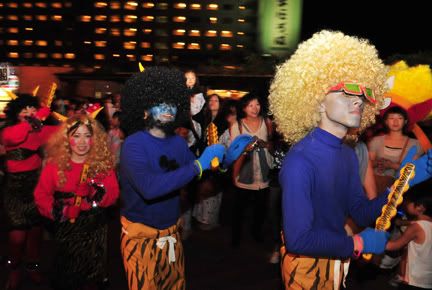 And the Gaijin Smash partook in the parade dancing as well. Duh!
Me and one of the devil kings (who strangely enough is totally channeling the Wise Man look here):
And, just when most of the children are at their pre-sleepy crankiness, out rolls the massive devil-mobile with the King of Hell strutting his normal spooky-self amidst a cloud of red smoke. He kind of makes you forget all about the chocolate-covered bananas in the street stalls for a bit:
The Hell Festival is the perfect combination of spookiness, Japanese festival tradition, Buddhist influence, and FUN!! I'd say the demons over in Noboribetsu know how to throw a pretty good time...definitely one of my top Hokkaido experiences for sure!