June is upon us here in Sapporo, and with it comes longer days, tons of BBQ parties, and about 50,000 dancers for my favorite festival, Yosakoi Soran. This yearly gathering brought hundreds of colorful teams from all over Hokkaido and Japan to compete and perform for the masses, and cries of "Soran! Soran! Soran!" accompanied some incredibly well-choreographed and energetic dancing for this year's 20th anniversary of the event: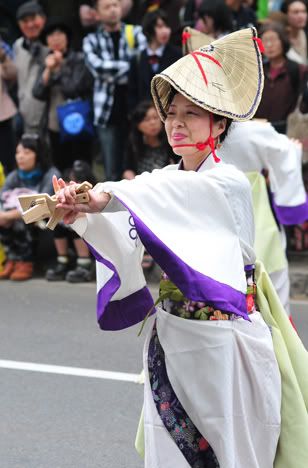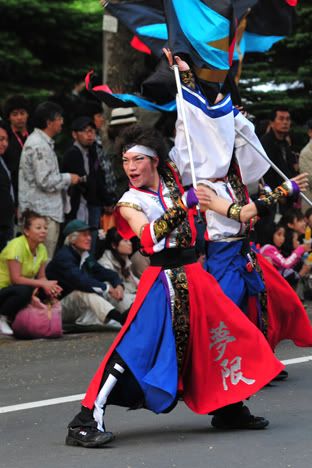 As I mentioned
last year
and the
year before
(check out the links for more festival pics), Yosakoi combines traditional Japanese summer festival dancing with high-impact (almost hip-hop like) dance moves and music. The costumes are always beautiful and colorful, and some of them can easily be changed one or more times during the performance as a part of the dance. In addition, the teams are required to use special clappers called naruko (which you can see them holding in the photo below) in order to be eligible for the final performances: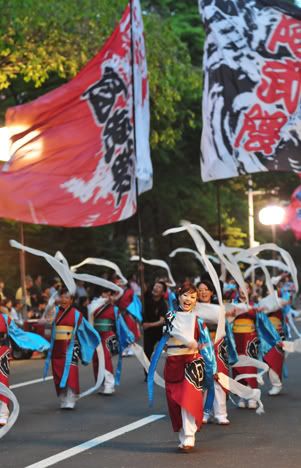 Besides the street parades, the teams also have a chance to perform on the big stage as well. A Yosakoi team can end up performing their dance up to 9 or more times in just one day alone!
Unlike previous rain-filled years, we had a few absolutely gorgeous days to enjoy the dancing and handy festival beer gardens as well:
Being able to enjoy this festival for three years now (and having a chance to dance in it last year) has truly been one of the highlights of our time here! Not having Yosakoi to kick off our summer anymore is gonna be a bummer (I mean, just look at how much fun it is), but as long as dancing like this still exists in the world, I suppose we can let it go!
Thanks, Yosakoi...and congrats to all of our friends who danced this year!