...In other words, the Snow Light Gleaming Festival held in Otaru, which we dragged our Australian couchsurfer to last weekend. During the festival, which piggybacks on Sapporo's Snow Festival, thousands upon thousands of candles and lanterns are placed throughout the streets of historic Otaru, and its famous canal is decorated with a few hundred floating bulbs of light. All of the lit snow sculptures are built by the community, rather than professionals, and all of the candles are homemade.
In a sense, the Snow Light Gleaming Festival is more impressive than Sapporo's in terms of romantic softness and peaceful beauty merely because of the simplistic grassroots effort of it all.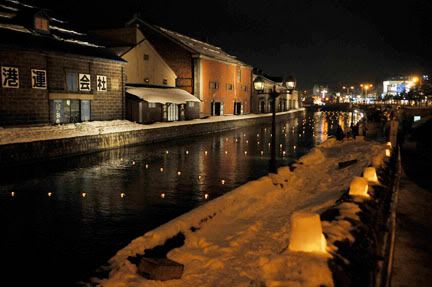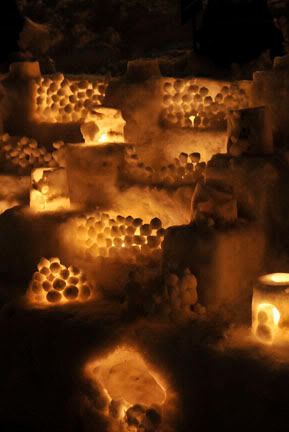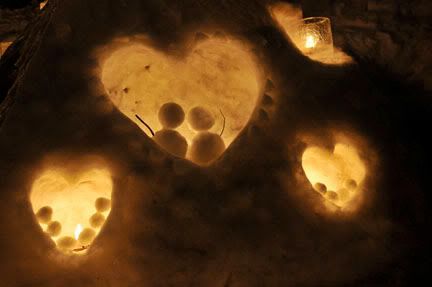 Definitely my kind of festival fare: the always-tasty crab that Hokkaido prides itself on:
An oasis in the snow for many, the Sapporo Ice Bar! This is one of the reasons we were looking forward to winter here in Hokkaido...supposedly, there are quite a few of these things around the surrounding areas:
What you don't realize, however, is that the novelty of an ice bar has no power against the city of Otaru's apparent early bedtime. The bar (along with the rest of the town) closed at 9:00pm on a Friday night, with last drinks being served at 8:30!
The beauty of these candle-holders made entirely out of ice is really splendid. They're so simple, but they're one of the most stunning things ever (especially when there are hundreds of them lit up within the snow):
The other great thing about this festival were the interactive igloos! One of them that we went in had a table of sake and a guestbook...brilliant!
And, the trip wasn't complete without some awesome hot soup curry...
...followed by a little "dessert" of beers and cured ham (fresh off the leg) at the Medieval-Europe/1940s-German-beer-hall-decorated Otaru Brewery:
My photos don't really tell the true story of our journey to Otaru. In a strange twist of meteorological events, it was actually
raining
on us for most of our time there! Because of this, many of the candles and lanterns were extinguished and the festival, I was told, just wasn't as bright and, well,
gleaming
as usual (thereby placing the Otaru Snow Gleaming Festival back on next year's "To Go To" list...).