This Thursday marks the beginning of one of Sapporo's biggest festivals, the Yuki Matsuri (Snow Festival), and in preparation for the event Odori Park has been turned into a building-carving-packing-scaffolding-frenzy! Oh, and once again, we get a rare glimpse of just what exactly the Japanese army does: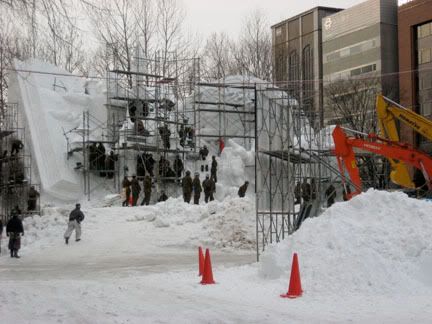 Blueprints for one of the main sculptures, which is in celebration of Tokyo Disneyland's 25th anniversary:
In addition to the megalithic snow creations, average-Joe's can also try their hand at their own snow sculptures. Residents, school groups, and foreigners alike can enter their names into a lottery for a chance to win their own hunk of snow and ice to sculpt. My friend, Jesi, did just that and I went out to help her work on it this weekend: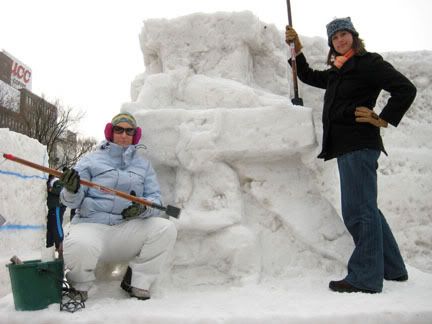 The ambitious, but very cool blueprints for her work of art, featuring Sapporo's own landmark, the t.v. tower:
Slowly, but surely, coming along:
Chinese, Korean, and English are becoming more and more
prominent nowadays here in town, and that means the tourists are flowing
in for the big event! If the sculptures can withstand the unseasonably warm weather and sunshine we've been having lately, I think its going to be a pretty good time! More photos to come!