Check out Part I (Tokyo) of my mom's Golden Week visit to Japan
here
.
From Tokyo, Mom and I boarded a train heading north to the little mountain town of Nikko. The 3-hour ride there took us through a gorgeous (not to mention, extremely relaxing) slideshow of blooming gardens, farmsteads with pagoda-trimmed buildings, and rice paddies filling every corner of land while glistening in the sunset. It was beautiful.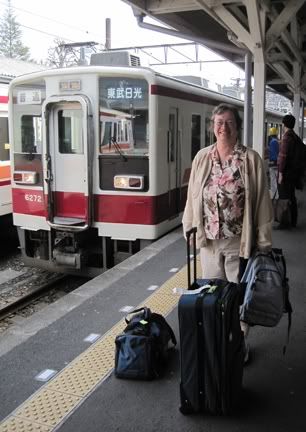 Nikko, whose kanji spelling (
日光
) literally means "sunshine," is located at the base of the Tochigi mountains and is a popular destination for both the Japanese and foreigners. Needless to say, it is quite a contrast from the planet of Tokyo: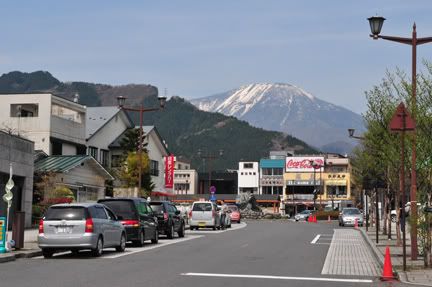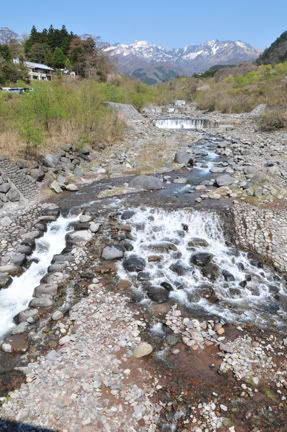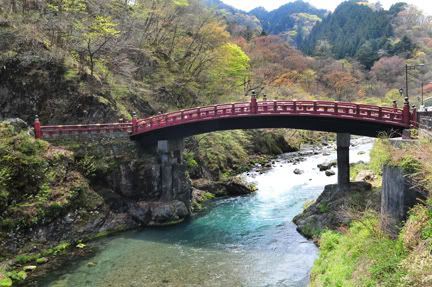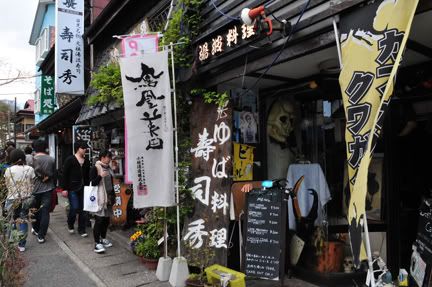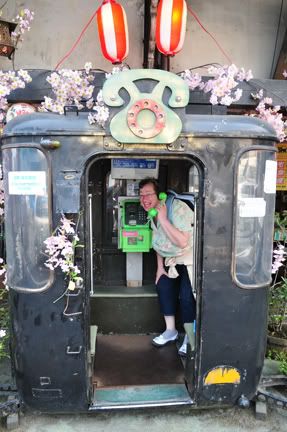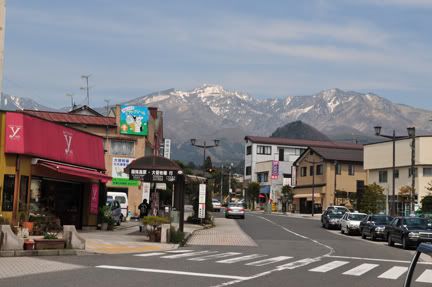 And the town's train station was even designed by Frank Lloyd Wright, further elevating Nikko's level of coolness in my book: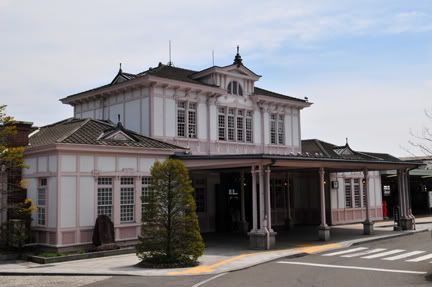 The big draw here, however, was built way before Mr. Wright had even
heard
about the place. Nikko's many shrines and temples (along with their awesome natural surroundings), are all on UNESCO's World Heritage list because of their history and architectural achievements. Some of them date as far back as the 8th century B.C., and although we had to fight massive Golden Week crowds to get our fill of them, they definitely didn't disappoint: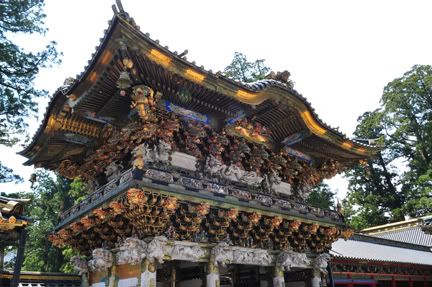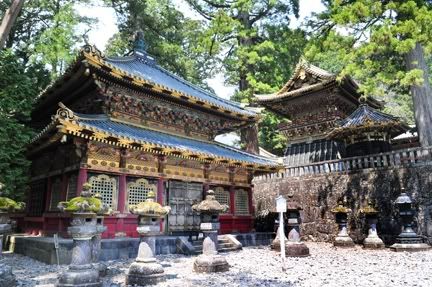 Out of all the structures within these complexes, a thick cloud of camera-snapping tourists almost always encompasses the base of this building: the stable: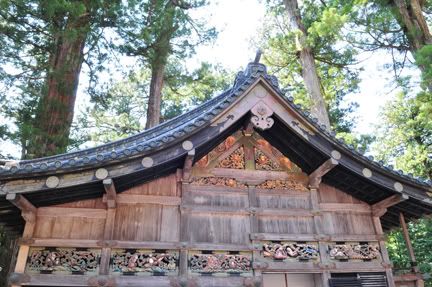 And the reason for all the commotion? A tiny carving of the "Hear No Evil, Speak No Evil, and See No Evil" monkeys, which represent one of the tenants of Buddhism. Didn't you always wonder where those originated from?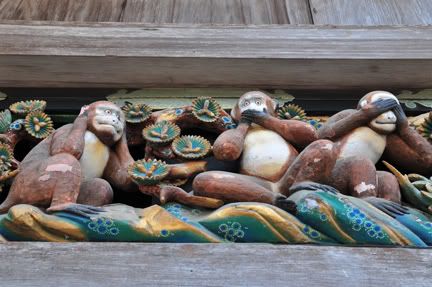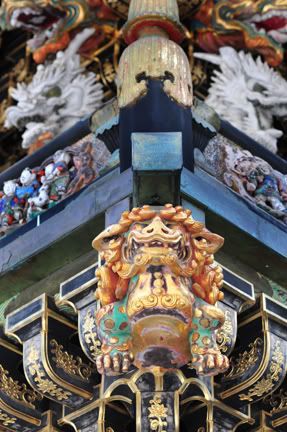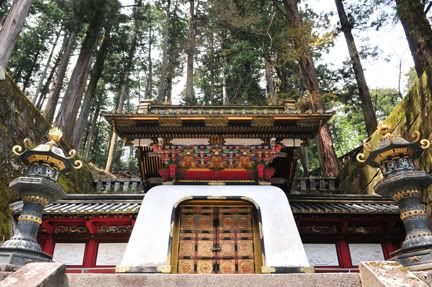 It's pretty easy to get "templed-out" after awhile so to speak, but we throughly enjoyed the colorful buds and blooms coming out the whole time we were in Nikko. Everything from cherry blossoms to pansies, and a few unknowns in-between: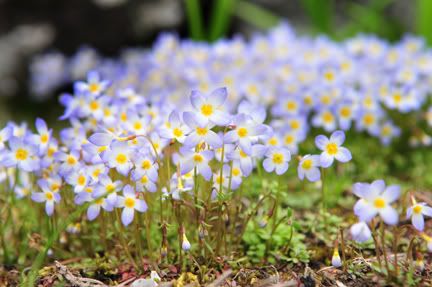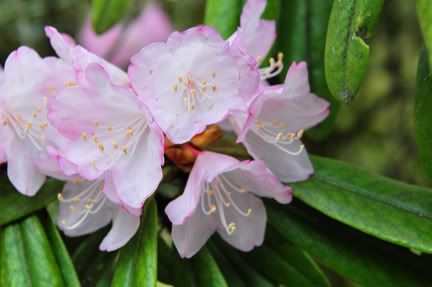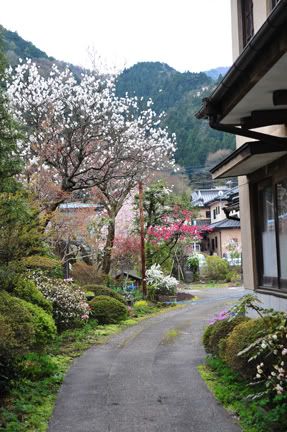 Nikko and the surrounding area are particularly known for producing high quality Yuba, the skin that forms on top of heated soymilk during tofu production. It's usually folded up into "noodles" or wrapped around other foods such as dim sum. Here, it even makes an appearance in my tasty bowl of ramen: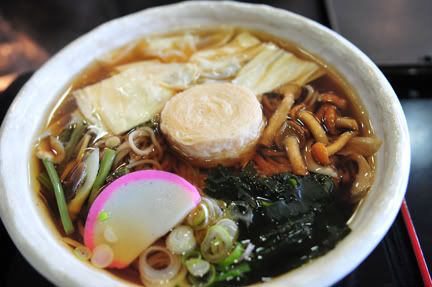 And speaking of food, I can't leave out the quaint little restaurant we happened upon. With only three tables and 20 years worth of traveler's memorabilia plastering the walls and ceilings, a mother and daughter serve up tasty hot noodle and tempura dishes. We even left our own "business card" and had a picture with the owners after chatting a bit. Definitely recommended if you make your way to Nikko with an empty stomach: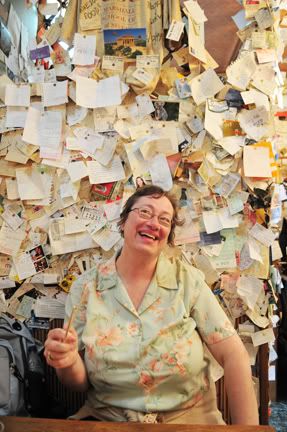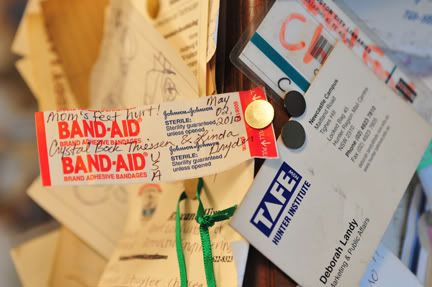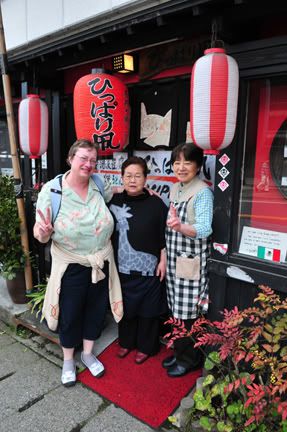 While in the area, we used one of our days to take a bus into the mountains and over to the town Chuzenji, which is located on the banks of a caldera lake of the same name: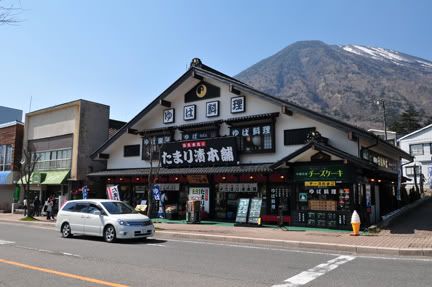 The hot springs town is most famous for waterfalls (namely the famous Kegon Waterfall) and monkeys. We took in the waterfall, but the only monkey we saw was this one: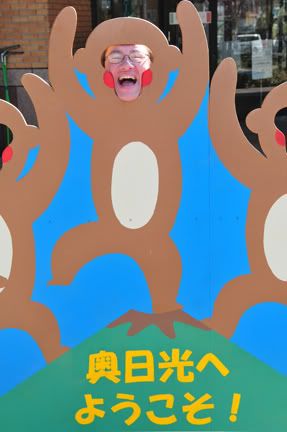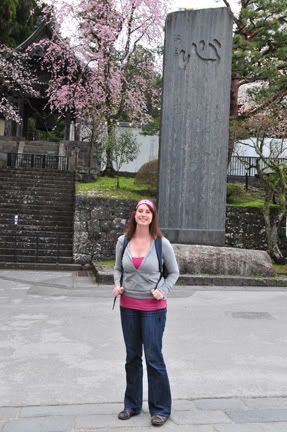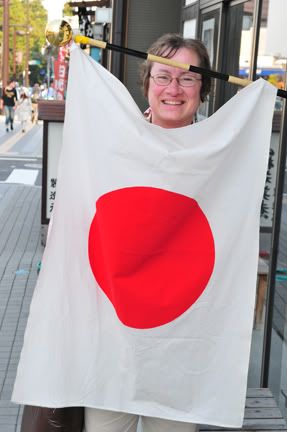 After another relaxing train trip back into Tokyo (followed by some not-so-relaxing scurrying through the subway with all of our luggage to the airport), we caught a plane up to our island of Hokkaido, and began in its gateway town of Hakodate, which will make-up Part III of our trip...