This weekend we took a little journey to the gorgeous Lake Toya area, about 3 hours south of Sapporo. It wasn't for camping or boating or swimming, however, but instead to do a little running: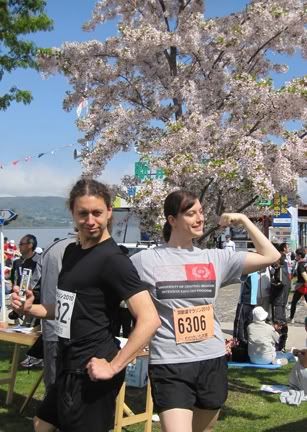 I participated in the Lake Toya 10K run, and Jacob came to complete the full marathon, his first, which he had been training for during the last couple of months!
Turns out, it was a perfect time to be in Toya...the cherry blossoms were still in full bloom, the sun was brilliant, and there was plenty abuzz with preparations for the races:

I've written about
Lake Toya before
as it is such a beautiful volcanic caldera lake with crystal-clear waters. This weekend was no exception to how wonderful a place it is:
...and Jacob's off! Good thing he's easy to spot!
After our races (which I think I actually got my best 10K run time yet!), there was plenty to hold us over while Jacob made his way around the lake, including plenty of photo opps...
...walking amidst all of the yummy "festival" food scents wafting through the air...
...hunting for some crazy runner get-ups (not nearly as many as back home, but there's still hope for the Japanese)...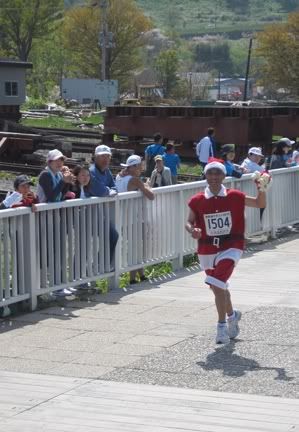 ...and a mochi (sticky rice substance) pounding ceremony: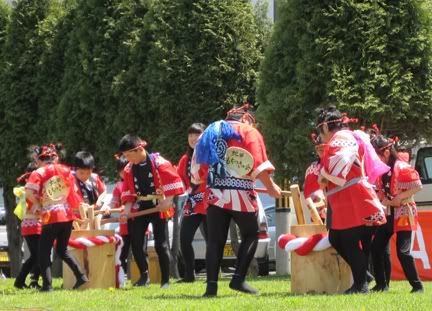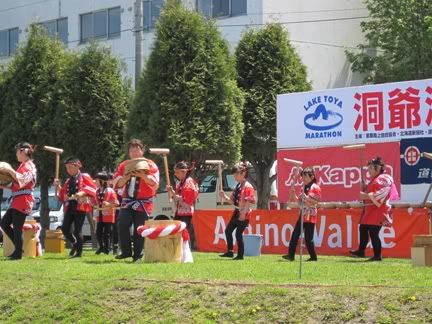 Finally, the last leg of a long day of running for Jacob: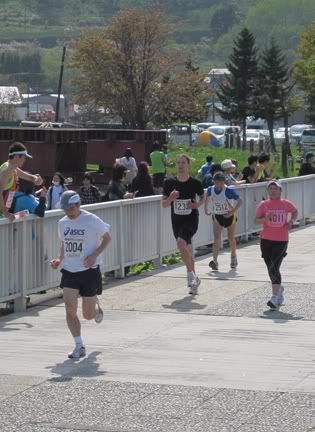 The happy marathon finishers: Jake and Takada san (who works in our school office):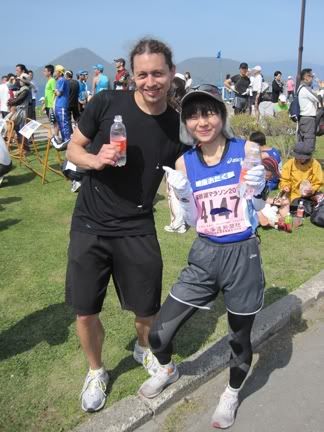 And, we all know the marathon isn't
truly
completed until there's a cold, frosty, post-race beer in hand:
The awesomeness that is Lake Toya's many area onsens (hot springs) ensured that every runner of the day got to partake in a free hot onsen-outing, so after redeeming ours in a lovely cave onsen, it was back to Sapporo for us (visions of hearty Indian food and realities of achy joints and muscles abound)!
Jacob kicked butt. The weather kicked butt. All around, it was an amazing time, once again, down in Toya! Can't wait to get back there for some (less painful?) camping this summer!