I don't know when I came to consider myself a Hokkaido-ner, but when our plane landed on Japan's big island to the north from Tokyo, I somehow felt like I was back "home" in familiar territory. Although this was my first visit to the port town of Hakodate (also referred to as the gateway to Hokkaido), the laid-back people, bland 1970s-era buildings, and general non-Japanesey-ness let me know that we were almost home, and that the vacation would soon be over.
But it wasn't all sad. In fact, I learned that it's kind of impossible not to have fun in a town whose official mascot is a squid: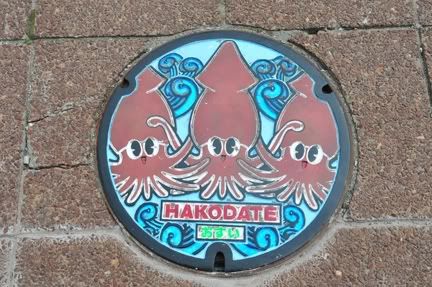 It was nice walking along the town's Maine-esque misty port, especially while knowing that it was one of the first three ports opened up to international trade (for which we thank Matthew Perry--and I'm not talking of Friends here) after Japan's 200 years of solitude!
Hakodate is known for it's extensive (still) use of cable streetcars, and people come (especially from the large island of Honshu) just to get pictures of and rides on these blasts from the past:
One of the really cool parts of the town is the turn-of-the century Kanemori Warehouses, which have been restored into shopping boutiques, sweets shops, restaurants, and seafood stalls down on the port. The whole revitalized area really comes alive at night (which can't be said for the rest of the town, which gets all packed in and closed down at around 7:30-8pm):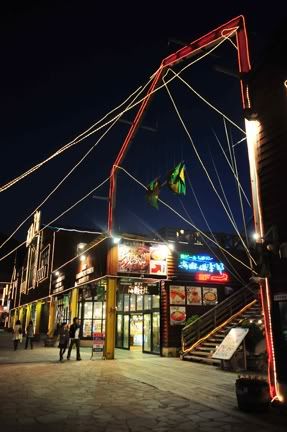 And of course, if you've heard anything about Hakodate, you know that it's most renowned for it's spectacular night view (a result of the town's occupation on the length of an isthmus). The Japanese say that it's one of the top three night views in the world, but knowing their obsession with
ranking the top three of everything in their country
, my bet is that it's just the top in Japan. Nevertheless, it's still quite nice: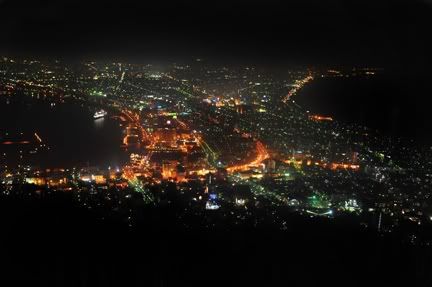 Mom and I, on the otherhand, were a little more obsessed with funny packaged fish. Here are our top three packaged fish sightings from Hakodate:
1. The "heavy-guts-n-all" air-vacumed-for-freshness fish: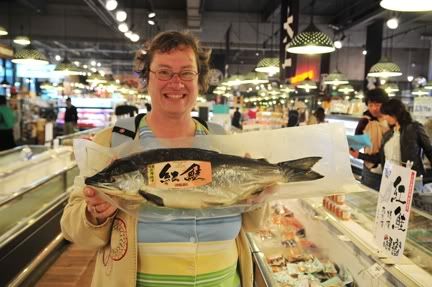 2. The dehydrated edible squid bath mat: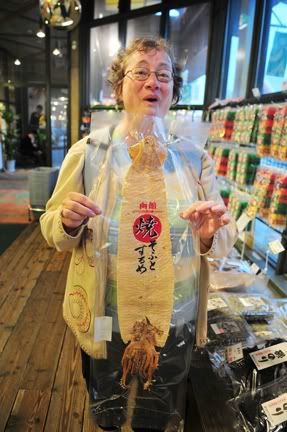 Our guesthouse we stayed at, complete with a nice view of the bay:
And because of the lateness of the cherry blossoms this year, we were juuuuuuust a little early to catch them all out in full bloom (about 3-4 days early, in fact). While this was fairly disappointing (Hakodate has some amazing sakura trees and areas), we did at least get to enjoy the Japanese determined to have their hanami (cherry blossom-watching picnics) come full bloom or bare branch:
Our last morning in Hakodate, we decided to stroll around and have breakfast in the colorful, crazy Morning Market:
What better way to power-up for a long bus ride than with shell-grilled hotate (scallops) and cold bottles of Hokkaido milk:
And for our five-hour busride back to Sapporo, we were delighted to step on to this three-row bus, complete with full-on lounging, a TON of leg room, and slippers at each seat! Genius. Relaxing genius.
S
o Sapporo is where we will end the trip, and the Golden Week blog series...hang on for some good times in the Sapps...