I don't know why it's taken me over two-years to get to one of the countries that's closest to Japan, but last week I took the plunge and had a great gals getaway to South Korea for friends, fun, and food. Especially bibimpap: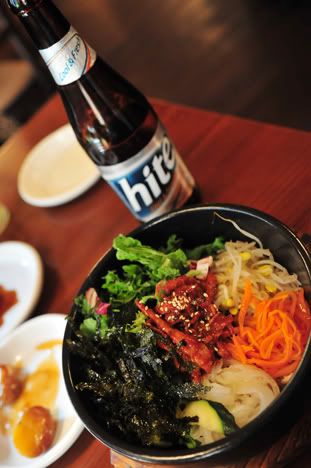 A former ESL co-worker of mine from the University of Central Missouri, Meagan, is also living in Japan as an English teacher. Together, we geared up to visit yet another former co-worker (and current English teacher in Korea), Naomi! An English-teaching triage of Central MO gals, it was!
Landing first in Seoul (and after the above priority of lunch), we took in one of the crazytropolis's many historic buildings, Changgyeong Palace, whose refreshing, bright colors gave a bit of omph to the otherwise underwhelming buildings:
And the fall leaves showcased everything with some awesome colors of their own:
Wandering around the Bukchon Hanok Village, an area of Seoul where quiet, traditional shops and houses have been (or are in the process of being) preserved and maintained, is like completely stepping out of the city which is second in size in the world only to Tokyo:
Of course, when it comes to Korea, it is ALL about the food! Restaurants from all countries, cuisines from all continents, spices, Korean specialities, and, of course, street food will make you forget all about that silly nonsense of eating only when you're hungry!
One of Seoul's many night food markets, where we ended up for dinner
: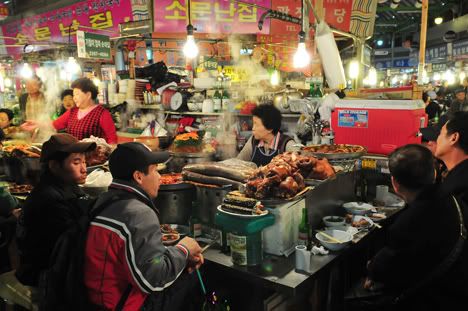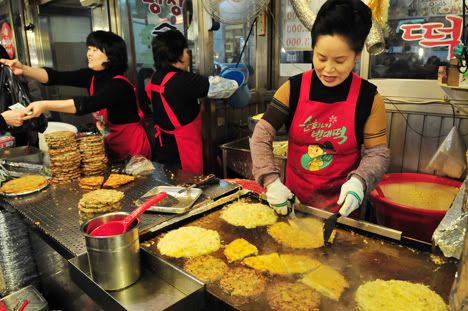 After a brief, heavy dose of Seoul, Meagan and I took a train down south to the port city of Busan, where we met up with Naomi. It was there that we ate at one of the hugest and most diverse buffets I've ever been to in my life! Plate one of five:
Busan's Jagalchi Fish Market is not only famous for the buckets and crates of fresh, straight-of-the-boat sea creatures, but also for the tough
ajumas
(married women) who scale, skin, be-head, chop, and otherwise prepare the seafood for sale. They are some intimidating and hard-working mamas:
PIFF Square in Busan...shopping, knock-offs, painful (beneficial?) massages, and amazing street food galore:
Another big draw for Busan are it's beaches, namely its biggest one, Haeundae Beach:
Before leaving Busan, Naomi took us to a wonderful little place on the sea, Yonggunsa Temple, where we sipped on hot yuja-cha (citrus tea which comes as a marmalade-like substance), eavesdropped on Japanese tourists, and took photos of the hundreds of Buddhas on the premies:
Next stop (and Part II), the city of Daegu and back to Seoul...