To read part one of our South Korean getaway, click here.
After Busan, we traveled up to South Korea's fourth largest city (and Naomi's current home) of Daegu with priorities being on dinner, full-out Korean style, of course: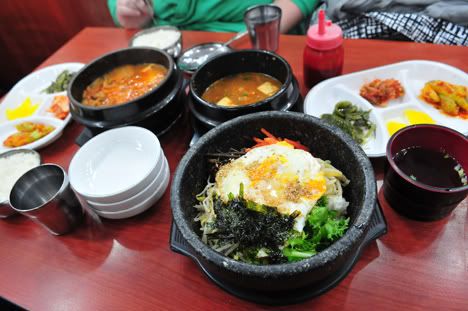 And, thanks to a couple of Naomi's friends who just happen to have their own guest apartment (!!!), we were definitely hooked-up accommodation-wise:
We spent our time in Daegu wandering through the medicinal herb market, taking in the pretty fall leaves and beautiful weather, doing some shopping, and meeting some of Naomi's fellow English teachers. One of them, Rose, came along with us back to Seoul and assisted Naomi in serving as our deluxe tour/cultural-guides:
Heading back to Seoul for a little more time in the capital city before the end of our trip, we had a chance to wander around and take in the hip, artsy Hongdae University District:
And headed out for one last bright Korean night on the town:
Complete with the mother of all Korean culinary traditions: the Korean BBQ:
And, with amazing "luck," we just happened to be back in Seoul during the gorgeous Seoul Lantern Festival. I say "luck" because it seemed as if all of the rest of Seoul had the same idea as the area was literally stuffed with thousands of people! With camera in hand and perseverance galore, however, I was able to carve my way through the body-mass to get some shots of the saturated lanterns set up on the river. Naomi, Rose, and Meagan, however, decided to hit the bar and "visit" the festival through my photos instead. Wimps.
So, for our short little getaway to our closest neighboring land (by "our" I mean Japan as a whole...Hokkaido's closest neighbor is actually Russia!), I'd say we had a great little sampler of some of the best of South Korea. Not sure if I'll have a chance to make it back to SK on this Asian adventure (as I always say, "too many places to visit and not enough time..."), but if so, I'll make sure to leave on an extra empty stomach...