It's now being billed as the largest earthquake since Japan began keeping records 100 YEARS ago! This was the big one, folks, and it's incredibly heartbreaking.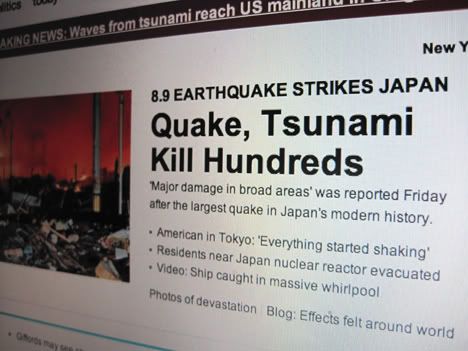 Death-counts are on the rise, and if the people of Honshu didn't have to deal enough already with the 5th largest earthquake in the world's recorded history, they now have tsunami after tsunami, fires, and possible meltdowns of their nuclear power plants (which are not cooling off despite being turned of as soon as possible) to fight.
Here in Sapporo, it's a beautiful, sunny, snowy day. It's impossibly hard to imagine that the images and scenes that we're seeing on the news are happening in our own backyard. We're completely relieved (and are feeling a little guilty) to be among the lucky crew...I've especially never felt so lucky for our Sapporo placement. Fortunately, all of our Japanese friends and foreigner friends living in Japan have had contact with us and are safe and sound as well.
Please send extra positive vibes and thoughts to the people in the Sendai and Fukushima areas, and give all of your loved ones an extra tight hug when you see them next.