If you really want to see how absolutely magnificent the Japanese are at working together in groups, you can look no further than the annual school festival tradition, which cumulates from 2-3 weeks of intensive preparation, practice, and organization (check out our school's Michael Jackson tribute festival last year). After three years and three festivals, I still marvel at what an awesome event the student-body can produce:
This year, just like
my first school festival
here, I was asked to be a judge for うたポン, a singing competition held the first night of the festival in which the entire school is split up into 10 mega-groups who then put on a dance, chant, and singing performance. John, our South African and other native English teacher at school, was a judge as well, and we debuted the duty with fabulous yukuta:
Some of my fabulous ex-students who graduated last year...I miss them so much:
Saturday of the school festival is reserved for a day of play performances put on by the third-graders (like seniors...basically, last years). Each third-grade class writes, produces, performs, directs, makes costumes & set designs, and basically runs an entire production! It's a rare chance to see these kids' incredible creativity when working together.
The last day of the festival, Sunday, is open to the public. Parents, former students, prospective students, siblings, and friends all come to see not only how the school has been transformed, but to also get an idea of daily life at S.I.T.: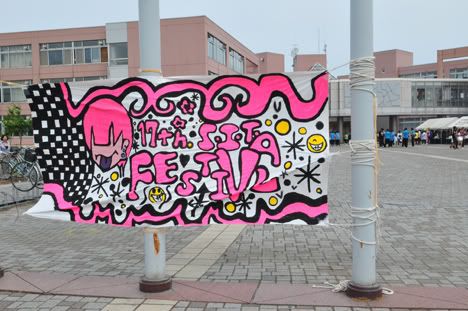 And it wouldn't be a Japanese festival without stands of yaki-tori (grilled chicken), yaki-soba (fried noodles), choco-bananas, and the like. Fortunately, that's the PTA moms and dads' duties: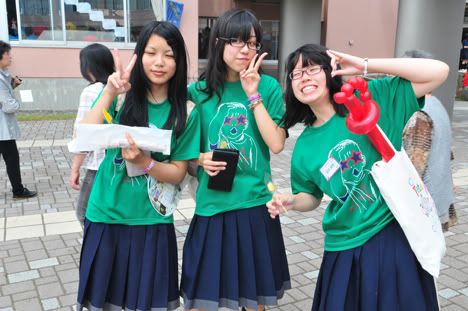 The inside of the school is transformed into a place for students to display and enjoy achievements of classes, clubs, sports, art, and musical talents:
Each class creates one of these cardboard wonders promoting their class theme for the year:
If you ever find yourself in Hokkaido during July (or elsewhere in Japan during October or September), seeking out a high school festival to attend is highly, highly recommended and totally delicious!
As my last school festival here in Japan, this year's event was a tad bitter-sweet for me...hitting home a little that we'll be out of here in exactly one month from today! 悲しい!